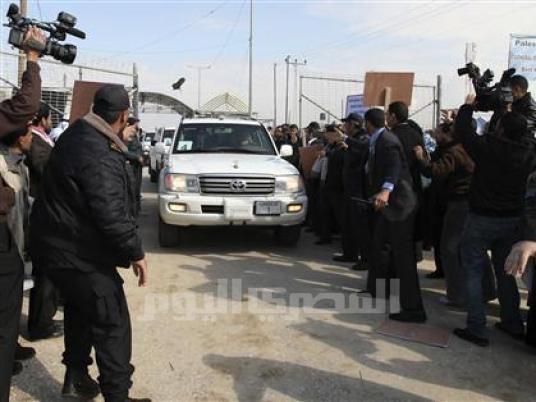 Georgian President Mikheil Saakashvili vowed to punish those responsible for torturing and raping prisoners, after a video of abuse in a jail sparked angry street protests two weeks before a parliamentary election.
The demonstrations erupted in the capital Tbilisi on Tuesday night after footage of the torture was shown on pro-opposition television channels. Thousands of people joined the protests on Wednesday, blocking two main streets and calling for the resignation of senior ministers.
The government said the video had been staged and recorded by guards who had been bribed by "politically motivated persons."
The prosecutor's office said 10 people had been arrested including the head of the prison in Tbilisi, two deputies and a number of guards. The prisons minister said she was resigning.
"Tonight, I tell all the victims of these inhuman actions and the whole nation that the Georgia we have built and we are all building together shall not and will not tolerate such behavior — in its prisons or anywhere else," Saakashvili said in a statement issued in the early hours of Wednesday.
"Those who committed these crimes will spend long years in jail, as will those who bribed guards to stage these horrors and film them," he said.
Later Saakashvili said radical reforms should be enacted in the former Soviet republic's penitentiary system and ordered patrol policemen to take on prison duties while reforms were worked out.
"This system, the way it is now, should be entirely abolished," Saakashvili said at the meeting with the prime minister, justice minister and prosecutor-general.
The video shows groups of guards beating, punching and humiliating prisoners, and inmates raped with objects. It was screened by two opposition-leaning television channels, one owned by billionaire Bidzina Ivanishvili, whose Georgian Dream coalition is challenging Saakashvili's ruling United National Movement in a 1 October parliamentary election.
"Misha, go!"
Protesters demanded the resignation of the justice and interior ministers and an independent investigation. Some of them chanted: "Misha, go!" referring to Saakashvili.
Similar protests were held in several major towns in Georgia, a transit route for oil and gas supplies across the volatile Caucasus.
A few political leaders, including Ivanishvili, joined the protests, but called for calm ahead of the election.
"Under no circumstances should you start unorganized street protests and under no circumstances should your actions be governed by anger," Ivanishvili said.
Human rights groups and the US Embassy condemned the prisoner abuse and called on the government to conduct a prompt and independent investigation.
Georgian Dream, which unites several opposition parties, has attracted large numbers to its rallies, but still trails the ruling party in opinion polls.
Ivanishvili, 56, has a fortune estimated by Forbes magazine at US$6.4 billion. He and other opponents accuse Saakashvili of curbing freedoms and criticize him for leading Georgia into a disastrous war with Russia in August 2008.