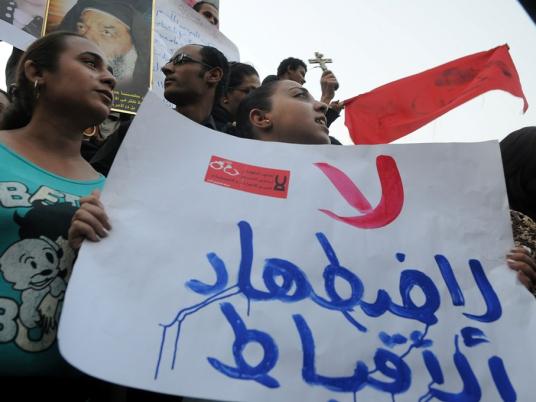 Thousands marched from the Coptic Orthodox Cathedral in Abbasseya to Tahrir Square Friday to commemorate those killed when the military brutally dispersed a Coptic-led march to the Maspero state television building on 9 October, leaving 28 dead.
The march was initially called for by the Maspero Youth Union, a group of Coptic activists demanding an end to discrimination against Egypt's largest minority group. Demonstrators had initially planned a commemoration event inside the cathedral, but canceled their plans since the church was preparing for the anniversary of Pope Shenouda becoming pope.
The march was populated by activists wearing black, red and white T-shirts, representing the colors of the Egyptian flag. Few religious signs were raised in an attempt to make the march inclusive of all Egyptians, as opposed to only Christians. However one cross could be spotted, as well as a mock coffin being carried through the sea of people marching.
Activists chanted slogans against the ruling Supreme Council of the Armed Forces (SCAF), which has denied responsibility for the violence on 9 October, accusing unidentified third parties of causing the chaos. Many hailed the march as well-organized.
Various political parties and movements participated in the march. Police forces were visibly present around the demonstrators.
The march coincides with the 40th day since the Maspero deaths, a landmark typically commemorated by the Coptic faith.