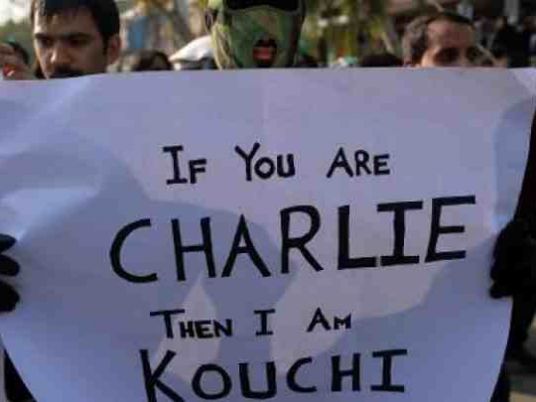 Around 15,000 people on Saturday rallied in Russia's Muslim North Caucasus region of Ingushetia against Western publications that insult the Prophet Mohammed, authorities said, in the wake of the Charlie Hebdo attack in France.
The crowd gathered for the officially sanctioned meeting in the regional capital Magas to protest "against cartoons of the prophet, Islamaphobia and insulting the beliefs of Muslims," the local government's press service told AFP.
Regional head Yunus-Bek Yevkurov described the publication of caricatures of the Prophet as "state extremism on the side of several Western countries" in a statement addressed to the protest.
"Instead of decisively condemning these destructive steps, the political authorities in the West are trying to set people of different religions and nationalities against each other," the statement published on the local administration's website said.
Russia's media watchdog on Friday warned publications that printing cartoons of the Prophet Mohammed was against the country's law and ethical norms.
Media and communications ombudsman Roskomnadzor said that publishing the caricatures could be qualified as "inciting ethnic and religious hatred" and punished under anti-extremism laws.
Many newspapers and magazines around the world reprinted cartoons of the Prophet Mohammed by Charlie Hebdo, whose Paris office was attacked by Islamist gunmen on January 7, leading to the deaths of 12 people.
Although Russia's leadership extended its condolences to France, and Foreign Minister Sergei Lavrov participated in the unity march staged at the weekend, pro-Kremlin commentators and Muslims accused the cartoonists of provoking the attack.
Another rally against the cartoons was due to be held Monday in the neighbouring region of Chechnya.
Chechnya's leader Ramzan Kadyrov said those who drew Mohammed cartoons were "people without spiritual and moral values" and pledged that 500,000 people would participate in the rally.