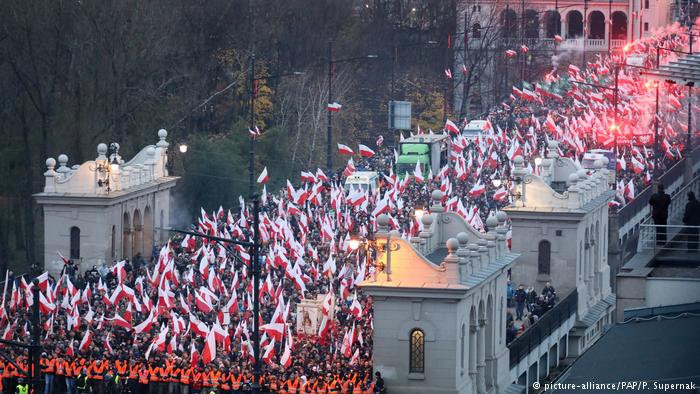 Thousands of nationalists marched through the streets of Warsaw in a rally organized by far-right groups. The march has become the largest Independence Day event in recent years, overshadowing official state events.
As most other European countries commemorated Armistice Day to mark the end of World War I in 1918, Poles celebrated national rebirth.
Several events were held to mark the 99th anniversary of Poland's independence after 123 years of being partitioned between Prussia, Russia and the Austro-Hungarian Empire.
Among them was a rally organized by the far-right National-Radical Camp (ONR), the National Movement (RN) and the All Polish Youth (MW), which trace their roots back to anti-Semitic groups active before the Second World War.
Police estimated the number of people who took part in the rally to be 60,000. The demonstration has in recent years become the foremost Independence Day event in Poland, overshadowing official state observances and other patriotic events.
Xenophobic rhetoric
Some participants expressed sympathy for xenophobic or white supremacist ideas, with one banner reading, "White Europe of brotherly nations."
The slogan for this year's event was "We Want God," in line with emotional themes of the past rallies. The words were taken from an old Polish religious song that US President Donald Trump quoted from during a visit to Warsaw earlier this year.
While many of the marchers carried the national white-and-red flag, some displayed banners depicting a falanga, a far-right symbol dating to the 1930s.
Far-right leaders from other European countries also took part: among them were Tommy Robinson from Britain and Roberto Fiore from Italy. Several of the speakers called on people to stand against liberals and defend Christian values.
Separately, left-wing activists held a much smaller counter-protest that they called an "anti-fascist" march. Organizers ensured the two groups remained apart to prevent violence.
Official celebrations
Earlier in the day, President Andrzej Duda presided over state ceremonies, which were also attended by European Union President Donald Tusk, a former Polish prime minister and a rival of the ruling Law and Justice (PiS) party.
Duda paid his respects at the Tomb of the Unknown Soldier, a monument dedicated to all unknown soldiers who died fighting for the country.
Tusk, who attended at Duda's invitation, also paid tribute to those who died during the conflict.
"Independence Day has always been and will continue to be a celebration of all Poles and not just one party. No politician in Poland has ever had nor will ever have a monopoly on patriotism," Tusk told reporters.
Relations between Brussels and Warsaw have worsened in recent months because of the PiS government's controversial court reforms, large-scale logging in a primeval forest and refusal to welcome migrants.
German war reparations
Jaroslaw Kaczynski, the leader of the ruling party, took the occasion to reiterate his demand for reparations from Germany for its actions in Poland during WWII, the Reuters news agency reported.
"The French were paid, Jews were paid, and many other nations were paid for the losses they suffered during World War Two. Poles were not," Kaczynski said.
"It is not only about material funds. It is about our status, our honor … And this is not theater. This is our demand, a totally serious demand," added Kaczynski, who is Poland's de facto leader.
Kaczynski's statement comes after Polish parliamentary legal experts in September ruled that Warsaw has the right to demand reparations from Germany. The government, for its part, has indicated that no immediate claim would be made.
The German government has rejected the idea of paying massive wartime reparations to Poland,saying the matter had been settled in 1953.