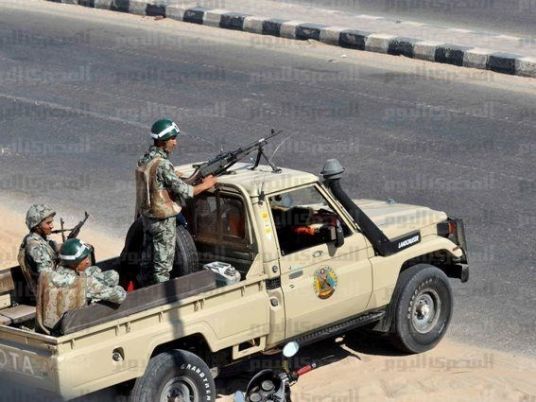 Two security personnel were killed on Sunday when gunmen attacked al-Egeizy security checkpoint, located on a regional road outside Sadat city, Menoufia, the Interior Ministry said in a statement following the incident.
According to the statement, the attack was launched while the personnel were checking a vehicle passing through the checkpoint, leaving Mohamed Shaaban al-Sayyed and Youssef Ahmed Youssef dead and three policemen and a citizen injured. The gunmen escaped in a car without license plates.
The injured victims were taken to hospital for treatment.
Security forces were dispatched to inspect the scene of the incident, and a search is underway in the area to find the criminals.
Egyptian military and security forces have been battling a mounting insurgency since the removal of former President Mohamed Morsi in June 2013. Militants linked to the Islamic State terrorist group frequently conduct ambushes, mortar attacks and roadside bomb attacks, mainly in the North Sinai governorate.
In one of the largest single attacks, at least 15 police personnel were killed in an assault on a checkpoint in Arish, North Sinai. According to news reports, the attack was initiated by a car bomb at the checkpoint, followed by mortar fire.
Militants from the Sinai Province terrorist group, which is affiliated to Islamic State, later claimed responsibility.
In a typical attack, militants will detonate explosives and then fire on ambulance crews when they arrive to treat the casualties.
Though such attacks are mostly confined to the troubled north of the Sinai Peninsula, militant attacks have also been seen in Greater Cairo.