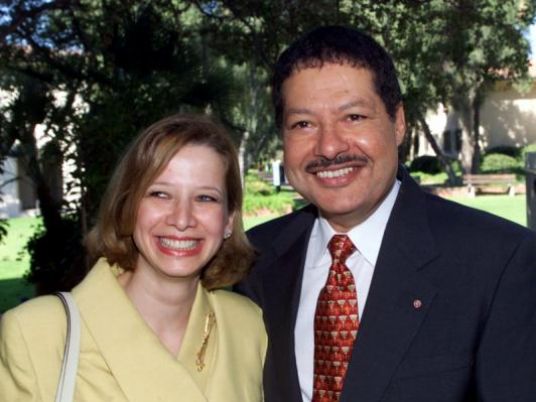 Egyptian chemist and Nobel Prize laureate Ahmed Zewail died suddenly on Tuesday, leaving his family and friends in shock. Zewail had recently recovered from a cancerous tumor on his spine and was said to be in good health, traveling freely and planning to return to Egypt for Eid al-Adha with relatives.
The passing of Zewail due to a "sudden virus" has prompted reflection on the fate of three other Egyptian Nobel Prize laureates: the late President Anwar al-Sadat, novelist Naguib Mahfouz, and scientist, politician and diplomat Mohamed ElBaradei.
Of the four Egyptians awarded the prize for efforts in their field, three are now dead.
Only ElBaradei, former Egyptian vice president and director general of the International Atomic Energy Agency (IAEA), is still alive, having opted for exile in Austria due to the political unrest in Egypt.
We take a look at the four great men and consider both their achievements and their personal destinies.

The assassination of President Anwar al-Sadat on October 6, 1981
1. Anwar al-Sadat
President Anwar al-Sadat received the Nobel Peace Prize in 1978, jointly with former US President Jimmy Carter and the late Prime Minister of Israel, Menachem Begin, for their role in forging the peace agreement between Cairo and Israel, known as the Camp David Accords.
On October 6, 1981, largely because of the agreement, Sadat was assassinated by the Jamaa al-Islamiyya group during a military parade celebrating Egypt's victory in the 1973 war with Israel.
The assassins, who were part of the parade, were later executed by firing squad, including the main defendant Lieutenant Khaled al-Islambouly.
Sadat was buried at the Unknown Soldier Memorial, in Cairo's Nasr City neighborhood. Sadat is described on the memorial as a "Hero of war and peace".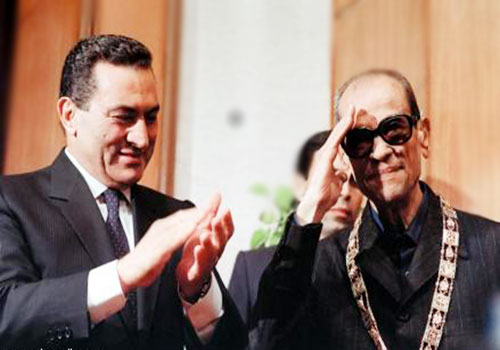 Naguib Mahfouz honored by former President Hosni Mubarak
2. Naguib Mahfouz
Novelist Naguib Mahfouz was the first Arab writer to win the Nobel Prize for Literature, which he was awarded 1988.
Mahfouz, who was born in the Cairo district of Gamaliyya on December 11, 1911, could not collect the prize himself. His daughter Fatima, accompanied by writer Mohamed Salmawy, traveled to Sweden to receive the prize on his behalf.
In the 1950's, two men stabbed Mahfouz in the neck over a fatwa by bigoted Islamists that called for his execution due to his controversial novel "Awlad Haratna", in which the writer allegedly insulted Islam. Al-Azhar also attacked the novel and called for it to be banned due to its allegedly insulting God.
Mahfouz died of pneumonia and kidney problems in 2006. A military funeral led by former President Hosni Mubarak was held for the late writer.

Ahmed Zewail receiving his Nobel Prize for Chemistry
3. Ahmed Zewail
Zewail was the first Egyptian and the first Arab to receive the Nobel Prize in a scientific field. He received the Nobel Prize for Chemistry in 1999, having pioneered the field of femtochemistry, the study of chemical reactions in ultra-short time scales, according to Reuters.
Through his research, he showed that it is possible with rapid laser techniques to study in slow motion how atoms in a molecule move during a chemical reaction down to tens of femtoseconds (fs) or 0.000000000000001 seconds.
Zewail's experiments led to the birth of the research area called femtochemistry, which enables us to understand why certain chemical reactions take place but not others, according to the Noble Prize Facebook page.
A member of the California Institute of Technology (Caltech) faculty, Zewail was appointed science and technology advisor to President Barack Obama and the first US science envoy to the Middle East.
The scientist openly expressed his political opinions about Egypt. He described Mubarak as "active" during the first decade of his rule, and described the last decade of his rule as a "recession".
He also described members of the junta who ruled Egypt during the transition period that followed the January 25 revolution as "patriotic personalities".
Zewail considered toppled President Mohamed Morsi a "scientist" — but not an independent decision-maker due to the control exerted by Muslim Brotherhood leaders.
More recently, Zewail expressed support to President Abdel Fattah al-Sisi, saying he is trying to tackle Egypt's problems using a scientific method. He also wrote an article in the Los Angeles Times in 2014 urging the United States not to halt its aid to Egypt.
The Egyptian-American scientist announced in 2013 that he was suffering from a cancerous tumor on his spinal cord, but he later said he was recovering. Zewail, who died in the United States on Tuesday, was killed by a "sudden virus", according to Sherif Foad, spokesman for the scientist.
The news came as a shock to family members, who were expecting him to visit Egypt in August.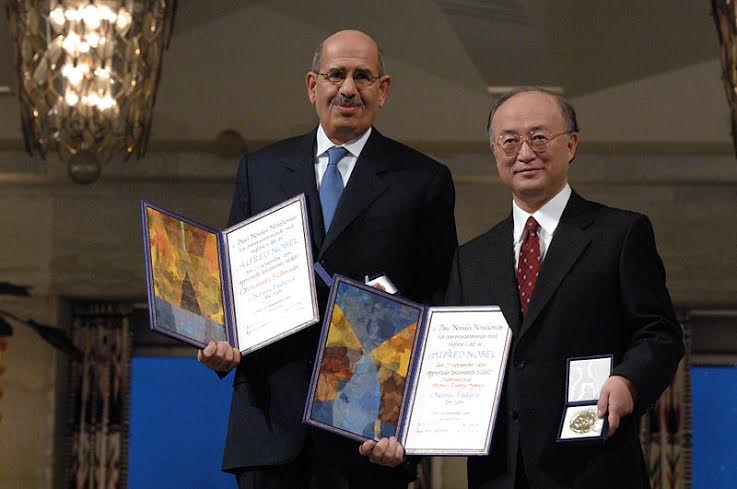 Mohamed ElBaradei receiving his Nobel Prize.

4. Mohamed ElBaradei
ElBaradei is the only Egyptian Nobel Prize laureate still alive. ElBaradei received the Nobel Peace Prize in 2005 for his efforts in confronting the spread of nuclear weapons during his tenure as head of the IAEA, headquartered in Vienna.
ElBaradei returned to Egypt during the January 25 uprising that toppled President Mubarak from power.
In the following years, he became more involved in post-revolutionary politics, being appointed Vice President to Acting President Adly Mansour in 2013 after Morsi was removed from power.
However, he resigned in protest at the violent dispersal of pro-Morsi sit-ins at the Rabaa al-Adaweya and al-Nahda squares in mid-August 2013. He travelled back to Vienna after his resignation, opting for "voluntary exile".
While ElBaradei has so far survived physically unscathed, he has been targetted for political attack on many fronts, including for his failure while head of the IAEA to oppose the US-led invasion of Iraq in 2004.