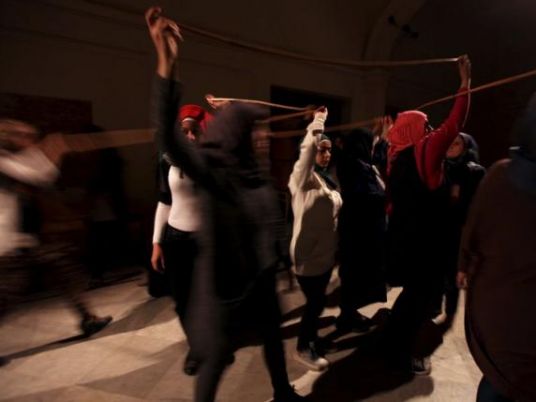 In a small studio in central Beirut, more than a dozen refugee women from Syria dash about barefoot as they rehearse a play about their experiences as war migrants.
"We get to a new country … people stare at us," one actress says while others put on the disdainful looks they got on reaching Lebanon after fleeing civil war across the border.
"Finally we find a home. We open the door and there's rubbish everywhere. The room is full of cockroaches," they chant in unison, stamping on the imaginary insects.
Those experiences, which the women acted out at a Beirut theater on Thursday evening, were at the start of the war more than four years ago. Many refugees still had savings then and hoped their exile would be temporary.
But with life getting worse and no end to the conflict in sight, the dominant theme in the play Terrestrial Journeys – a six-week project organized by British-Iraqi actress Dina Mousawi – is their now longed-for passage onwards to Europe. It was due to hold a second and final performance on Friday evening.
"After years, we've got no choice but to migrate. That's our thinking now," Wessam Sukkari, a 38-year-old Syrian Palestinian refugee from Damascus's Yarmouk camp, said during a rehearsal.
Sukkari's husband traveled to Germany several months ago while she and their two daughters stayed behind in Lebanon.
They hope to join him in future, but not over the dangerous illegal smuggling route he took along with hundreds of thousands of other Syrians landing in Europe this year in a record influx.
Sukkari recounted her husband Nidal's story, including how he was fleeced by smugglers, crawled under barbed wire fences in Hungary and walked along railway lines to get to Germany.
Her family fled aerial bombings of Yarmouk camp in 2012 and now sees little other choice than to move further west.
"We came for a temporary period, waiting for the situation to improve in Syria," she said. "We didn't think we'd stay for more than two or three months – the war wouldn't last that long. We'd rent a place to live for a month, and then move again.
"But after three years, we're still extending our stay. We haven't been able to get work or make a future for our children."
Worsening conditions
The United Nations says 70 percent of Lebanon's one million Syrian refugees live in extreme poverty. Some 200,000 refugee children are out of formal education, even with Lebanese and international efforts to increase the number attending public schools.
The crisis has put a severe strain on Lebanon, which hosts the highest proportion of Syrian refugees. One in every four people in the country is a refugee. Many have sought passage to Europe as their conditions worsen, some even going back through Syria and into Turkey.
Fedwa Awayti, whose personal story also features in the performance, said forced migration had scattered her family.
"I have a daughter who got engaged here in Lebanon, married in Turkey and gave birth in Sweden," she said, sitting in the seventh-floor rehearsal studio that looks out to the sea.
One of her sons is also in Sweden. Another was killed by a sniper in Yarmouk, after deciding to stay in the camp to distribute food aid rather than flee abroad, she said.
Awayti, 58, lives in Shatila Palestinian refugee camp in southern Beirut and sees no future there.
She broke into tears during a rehearsal as she told the group she had not yet met her newest granddaughter Julia.
But the six weeks of daily rehearsals have been filled with more laughter than crying as the experience of producing theater provides a rare creative outlet.
"It's an excuse for them to leave the camps because they hardly ever do," Mousawi said. "We start every morning with yoga … just to relax them and let them forget about their worries. It's therapeutic."
Sukkari agreed, saying: "It gave me strength. I was able to express what I wanted to talk about. There's no other outlet where I've been able to talk about this and still feel happy.
"We live under pressure, but in these four hours we get strength from telling our stories."