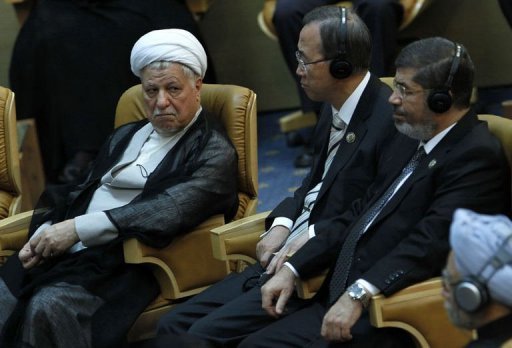 President Mohamed Morsy may be mulling a second trip to Tehran, telling his Iranian counterpart Mahmoud Ahmadinejad, "We will visit you soon."
Morsy made the comments Wednesday before the second day of the Organization of Islamic Cooperation summit in Cairo. His visit in August to attend the Non-aligned Movement summit and Ahmadinejad's trip to Cairo this week mark the first such state visits since the two nations severed ties in 1979.
Ahmadinejad said in an interview with state-run Nile News Channel Wednesday that the Iranian public supports strengthening ties with Egypt. The president said he respects Egypt and its people and is looking forward to improved relations.
"Iran has supported the Egyptian people's right to change because they are mature, independent and no one can impose anything on them. We support them politically," he said.
Ahmadinejad asserted that renewed diplomacy between the countries would not come at the expense of Egypt's relations with other Arab countries.
"Why are you interpreting relations as such that [Iran] and Egypt will be against others?" he asked during the televised interview. "We respect all countries. We must beware of the sedition being promoted against developing Egypt-Iran relations."
Iranian Foreign Minister Ali Akbar Salehi also expressed hopes that diplomatic representation would improve during an interview with London-based Asharq al-Awsat newspaper published Thursday, saying critics were attempting to incite hate between Sunni and Shia Muslims.
"We have always announced readiness to raise the level of [diplomatic] relations and we hope that our Egyptian brothers move in this direction," Salehi said.
In a sign ties are already warming, Salehi said Wednesday that Tehran plans to allow Egyptians to visit Iran without a visa starting this month, reported state news agency MENA.
MENA also reported that leaders from Egypt, Turkey and Iran are still discussing the Syrian conflict.
Salehi said he welcomed a proposal from Sheikh Ahmed Moaaz Khatib, head of the National Coalition of Syrian Revolutionary and Opposition Forces, to meet with Syrian Vice President Farouq al-Shara.
"I would imagine that the Syrian government is ready to negotiate with the opposition," Salehi said. "There was a summit between Egypt, Turkey and Iran on the crisis today … We are optimistic."
Tehran severed diplomatic ties after Iran's Islamic Revolution broke out and Egypt recognized Israel in the 1979 peace treaty.
Edited translation from Al-Masry Al-Youm, MENA