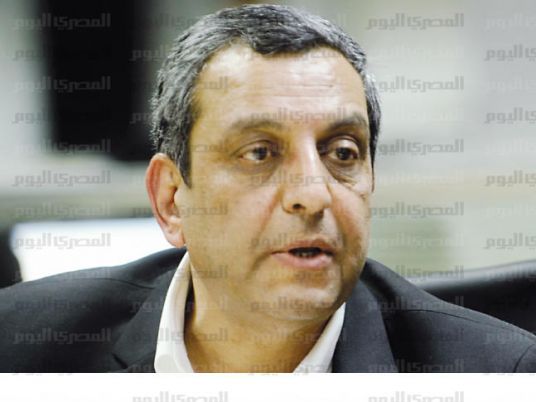 Police cordoned off the area around Abdeen court with barricades on Saturday ahead of the trial of three leading members of the Egyptian Journalists Syndicate accused of harboring two colleagues wanted by police, and circulating false news.
Media personnel were almost entirely absent from the scene, while security measures were tightened around the court building.
Journalist Syndicate Chief Yehia Qallash, Syndicate Secretary General Gamal Abdel Rahim and Khaled al-Balshy, chief of the syndicate's freedoms committee, were originally set to stand trial on June 4, but the case was adjourned to June 18 in response to the defense lawyer's request for more time to study the case. On June 18, the court adjourned the trial to June 25, when the hearings were postponed for another time in order to hear the testimonies of prosecution witnesses.
Qallash, Rahim and Balshy were arrested in the wake of a stand-off between the syndicate and the Interior Ministry after the journalists Amr Badr and Mahmoud al-Sakka took refuge in the syndicate's headquarters last month, fearing arrest by police.
Badr, the editor-in-chief of yanair.net, and his colleague Sakka were wanted on warrant for spreading false news and seeking to incite illegal protests, scheduled for April 25, against the maritime border agreement between Egypt and Saudi Arabia earlier that month.
They took shelter in the syndicate's headquarters in downtown Cairo as police searched for them at their homes.
After police officers entered the syndicate to detain Badr and Sakka, the syndicate's leadership made claims that the ministry had used excessive force in its "raid" on the journalist body's HQ building in downtown Cairo.
Qallash, Rahim and Balshy were previously granted bail of LE10,000 each but decided to remain in custody.
Edited translation from Al-Masry Al-Youm