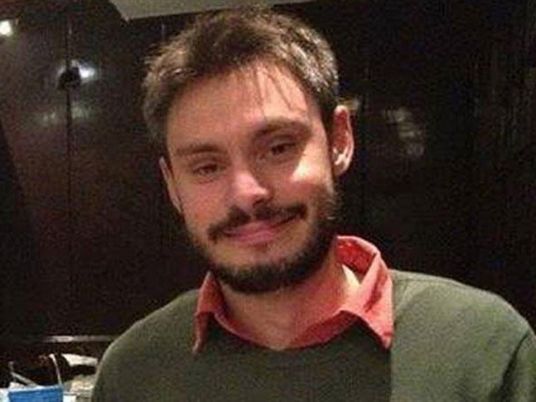 An Egyptian assistant minister has denied as "baseless" media reports that a senior coroner testified that murdered Italian student Giulio Regeni was tortured systematically for up to seven days in order to obtain information.
Citing anonymous prosecution sources, Reuters reported on Tuesday that Hisham Abdel Hamid, Director of the Department of Forensic Medicine, provided testimony last week to the public prosecutor's office as an expert witness.
An anonymous Reuters source is quoted as saying, "We asked Hisham Abdel Hamid to appear before the prosecutor's office for questioning, to ask him questions about the autopsy."
According to the news agency, the source claims that Abdel Hamid was accompanied by two colleagues who also took part in the autopsy.
"Abdel Hamid said during the questioning that the wounds on the body occurred over different intervals of between 10-14 hours. That means that whoever is accused of killing him was interrogating him for information," said the source, according to Reuters.
The news agency went on to say that such signs of systematic torture, including "cigarette burns over several days", could be interpreted as evidence that Regeni was tortured and murdered by Egyptian security services.
Reuters claimed that a source from the Department of Forensic Medicine confirmed that Abdel Hamid had been questioned in the case. When the news agency contacted Abdel Hamid by telephone, he declined to comment.
However, in a strongly worded denial, Assistant Justice Minister for Forensic Medicine Affairs, Shaaban al-Shamy, rejected the Reuters report as unfounded.
"This news is completely false, fabricated and baseless," Shamy said in a press statement Tuesday.
Shamy said that Abdel Hamid had never been summoned for testimony in Regeni's case.
The assistant minister said that Reuters had falsely claimed to have obtained official information, which is a crime punishable by law.
Regeni, a 28-year-old Italian studying for his PhD at Cambridge University, went missing in Cairo on January 25, the fifth anniversary of the 2011 uprising that toppled former president Hosni Mubarak. He was in Cairo to conduct research on Egypt's labor movement.
Ten days later, Regeni's body was found by the side of the Cairo-Alexander desert road, apparently showing signs of torture.
Egypt ordered a post-mortem examination before repatriating his body to Italy, where Italian investigators performed their own post-mortem. Later, Italian Interior Minister Angelino Alfano said that the body showed signs of "something inhuman, animal-like, an unacceptable violence."
Many in the Egyptian and Italian media have speculated that the student was likely abducted and tortured by Egyptian security services seeking to learn of his contacts with opposition figures in Egypt. According to La Repubblica newspaper and other Italian media outlets, the Italian authorities also suspect the Egyptian security services of the student's death.
However, the Egyptian government has rejected such claims, suggesting that criminal or other motives may have been at play. Speaking to Italian newspaper Correire della Sera, Egyptian Foreign Minister Sameh Shoukry said claims of Egyptian security involvement were merely "judgments, accusations and insinuations, unjustified and without proof."
More recently, some Italian journalists have suggested that Regeni may have been gathering information that would ultimately end up in the hands of Western intelligence agencies, unwittingly acting as a conduit for sensitive information about Egypt. They cited the history of links between British universities and their intelligence services, as well as the brief period of time Regeni spent working for British-American security consultancy firm Oxford Analytica, which was founded by former US intelligence official David Young.
However, other Italian newspapers, such as La Stampa were more skeptical, carrying statements from Regeni's family stating that he was not working for either an Italian or foreign intelligence agency, and that such suggestions were offensive to his memory.
In a statement on February 24, the Egyptian Interior Ministry said that the student may have been killed for any number of reasons, including criminal motives or revenge. However, the ministry did not say whether "criminal" motives might include terrorism.
There have been a number of kidnappings and murders committed by ISIS-affiliated terrorists in Egypt in recent years, including at least two targeting Western victims.
In August 2014, William Henderson, an oil worker with US company Apache Oil was killed on the outskirts of Cairo in an attack later claimed by the ISIS-linked Sinai Province group. In July 2015, ISIS-linked terrorists kidnapped Croatian engineer Tomislav Salopek, later releasing pictures said to show his beheaded corpse.
The Egyptian military is fighting an Islamist insurgency against several groups, most notably the ISIS-linked Sinai Province group, with fighting mostly confined to North Sinai.
The Italian government has demanded that Egypt conduct a full investigation and find Regeni's killers. Egypt has promised to find those responsible and bring them to justice, but so far no suspects have been named.