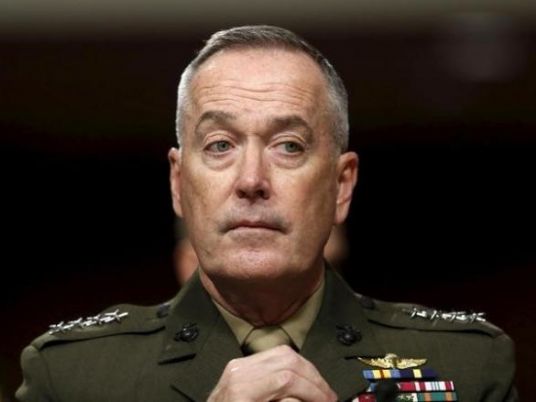 The top U.S. general warned on Monday against rushing to judgment after a deadly weekend U.S. air strike that Syria says killed some of its soldiers, as he defended U.S. targeting that his military has used against Islamic State in Syria and Iraq.
"Maybe before we start going on a path of 'what went wrong,' let's do an investigation and actually ensure that something did go wrong," Marine General Joseph Dunford, chairman of the U.S. military's Joint Chiefs of Staff, told a small group of reporters traveling with him.
The remarks are the latest to suggest the U.S. military still believes it may have had good reason to think it was striking Islamic State instead of Syrian army forces on Saturday in the eastern Syrian city of Deir al-Zor.
The strike triggered a war of words between Washington and Moscow and further strained a cessation of hostilities that now appears in tatters.
SyrianPresident Bashar al-Assad called the strikes a "flagrant aggression."
Russia has said more than 60 Syrian soldiers were killed.
But Dunford said he would wait for the investigation to be completed to answer basic questions about what U.S. intelligence knew and did not know, noting he wanted to learn things like what kind of uniforms the Syrians were using.
Among the targets the U.S. forces hit was a tank, two U.S. officials previously said, speaking on condition of anonymity. Such military equipment would be relatively easy for the United States to identify from surveillance drones or satellite images.
Dunford, asked about that possibility, noted that Islamic State fighters had seized tanks in Syria and Iraq in the past. They also have heavy weapons, he said.
"It may be that … when you do the investigation, the facts would tell you that we would have done what we did again," Dunford said, adding he would not have a clear picture without a proper investigation.
Dunford noted that even in Syria's messy civil war, U.S. targeting had previously avoided hitting Syrian or Russian forces on the ground. "I'd put this in the context of thousands of strikes …that we've conducted, with minimal loss of civilian life," he said, adding the U.S. military had a "pretty good process" for targeting.
Coordination with Moscow
The Syrian military on Monday declared the week-old ceasefire was over, although Washington said it had still not received word from Moscow to that effect.
The attempt at a ceasefire, negotiated by U.S. Secretary of State John Kerry and Russian Foreign Minister Sergei Lavrov, could be the final attempt by U.S. President Barack Obama to negotiate an end to Syria's civil war.
If successful, the ceasefire held out the prospect of military cooperation between the United States and Russia against Islamic State, a prospect that had long made the Pentagon deeply uneasy.
Dunford, wrapping up four days of talks with European allies, said, however, he believed there was broad consensus among America's partners that military coordination would be beneficial if it helped ease suffering in Syria's war.
"They are cautious. This is not a relationship based on trust," Dunford said.
At the same time, Dunford stressed that he would not allow any future military cooperation with Moscow to alter U.S. protocols that ensure safeguarding of civilians.
"Our job is to develop a construct within which we do mitigate the risk of being involved in any violation of the law of armed conflict or any unnecessary loss of civilian life," he said.