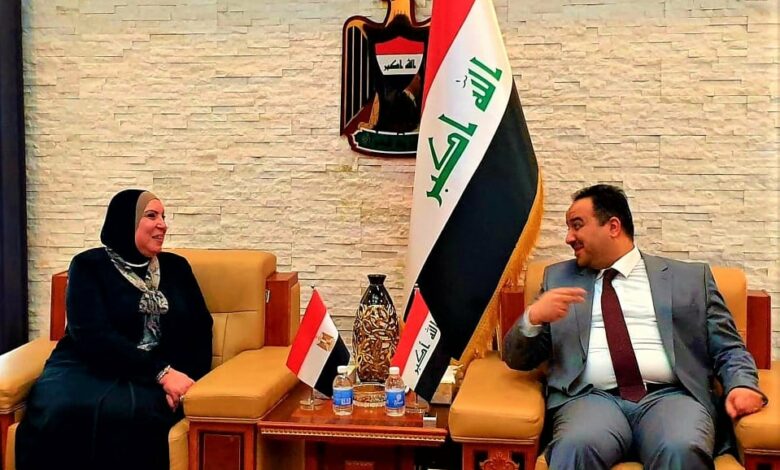 Egyptian Minister of Trade and Industry Nevine Gamea announced Sunday that trade exchange between Egypt and Iraq has moved on positively despite the coronavirus pandemic, with the the total volume of trade exchange between Egypt and Iraq amounting to US$747.6 million last year, compared to $551.3 million in 2019 – an increase of 36 percent.
The value of Egyptian exports to Iraq amounted to $421.7 million last year compared to $411.4 million in 2019, an increase of three percent.
This came during Gamea's statements after talks with her Iraqi counterpart Alaa al-Jubouri, during her official visit to Iraq. Iraqi Minister of Industry and Minerals Manhal Aziz al-Khabbaz and the Egyptian Ambassador to Iraq, Waled Ismael, participated in meetings.
She noted the importance of continuing talks at bilateral and regional levels were between Egypt, Iraq and Jordan were brought up during the talks, in order reach understandings that enhance economic integration between the three countries.
The minister touched on finding urgent solutions to the challenges affecting the flow of Egyptian-made goods to the Iraqi market, within the framework of agreements signed between the two sides.
She also discussed utilizing the Egyptian-Iraqi Joint Business Council in activating inter-trade and joint investments, especially since the private sector in both countries serves as a main pillar for strengthening joint Egyptian-Iraqi economic relations.
Jubouri said that achieving efficient trade flow between Iraq and Egypt is at the top of his ministry's priorities, especially since the Egyptian product is receiving great acceptance and popularity within the Iraqi market.
Egypt's contribution to the support and development of the Iraqi industry is an important step towards fixing the imbalance in Iraqi trade with many countries of the world, which will bring balance for the Iraqi economy, he said.
Jubouri also express his his hope that the next stage will witness an increase in trade rates between the two countries, which will have a positive impact on the peoples of both nations.