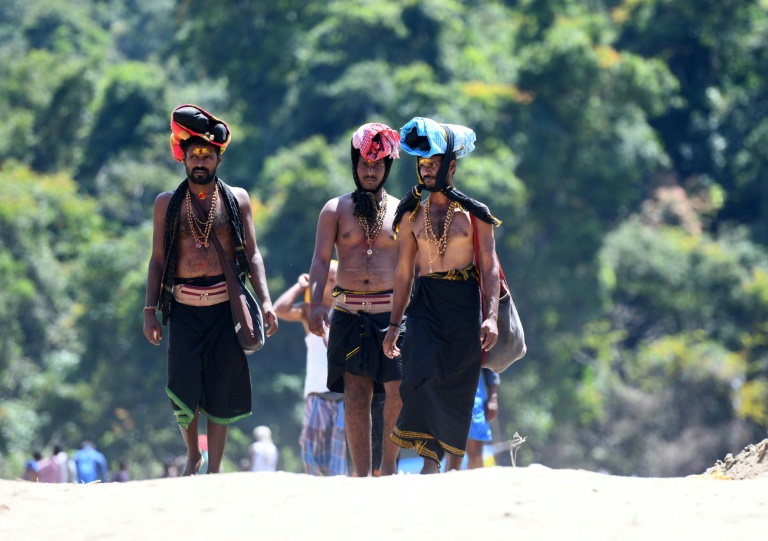 At the Indian temple that is the focus of a battle over gender equality, Hindu hardliners are in festive mood, successful — so far — in their bid to keep women out.
A supreme court decision to end a ban on women of "menstruating age" — those between 10 and 50 years — at the Sabarimala Temple in Kerala has sparked violent demonstrations on the roads leading to the site.
Traditionalists have threatened women trying to get to the complex and have clashed with police officers sent to enforce the court's ruling.
But up at the hilltop temple, conservative Hindus are in celebratory mood.
"You talk to anyone — men or women — who know about this temple's history and (they) believe in it," said pilgrim Rajesh P., one of thousands queuing up to ascend the golden stairs at the shrine.
"I am happy my daughter is experiencing this", he said, carrying the customary "irrumudi" offering made of coconut and clarified butter in a cloth bag on top of his head.
If traditionalists have their way, his daughter will be banned from the temple in a couple of years, when she turns 10, unlike at most other Hindu sites.
This reflects an old but still prevalent conviction — not exclusive to Hinduism — that menstruating women are impure, and the belief that the deity Ayyappa, to which the temple is dedicated, was celibate.
In rural and semi-urban pockets of 1.25-billion-strong Hindu majority India, some women are still made to sleep and eat separately when they have their periods.
The ban at Sabarimala — one of the holiest sites in Hinduism — goes back centuries according to traditionalists, but was only formalised in 1991 by the Kerala High Court.
However, last month India's Supreme Court, following on from other recent liberal rulings like legalising gay sex, overturned the ban, calling it discriminatory.
"To treat women as children of a lesser god is to blink at the constitution itself," said Justice D. Y. Chandrachud.
Angry men
The move enraged hardliners, many of them supporters of Prime Minister Narendra Modi's ruling BJP Hindu nationalist party — and this week their anger was on display.
On Wednesday, when the temple was due to open for monthly prayers for the first time since the ruling, groups of mostly men stopped and inspected vehicles to make sure no women of childbearing age were inside.
Despite hundreds of extra police deployed to protect worshippers, even female reporters trying to report on events were not safe, with mobs surrounding and smashing the windows of cars of at least two women journalists.
A car containing three AFP correspondents, one of them a woman, was surrounded, and men beat their fists on the roof demanding that she go back.
With devotees throwing stones and police responding with baton charges, the few women who had wanted to make it to the temple gave up.
Forest trek
Their traditions protected for now, the mood was happy on Thursday as the pilgrims — mostly men but also children of both sexes and older women — trekked up the concrete path in the lush, monkey-filled forest to Sabarimala.
Custom dictates that for the 41 days before, pilgrims wanting to enter the Ayyappa shrine must abstain from sex and walk up the arduous route — although one track is easier on the leg muscles — without shoes.
The elderly and the infirm are permitted to use palanquins.
Devotees are required to abstain from consuming alcohol, tobacco and meat, while cutting hair or shaving are also taboo. They must also wear black, blue or saffron clothes and pray and wash regularly.
It is an atmosphere of festive fervour on the entire trail with a steady stream of devotees loudly shouting the same rhythmic chants to Ayyappa.
But tensions over the court ruling were not far from worshippers' minds.
"Everyone is angry and I don't have to hide it… We don't want any change. Our Ayyappa's traditions don't need to be tampered with," shirtless devotee Sundaravadana told AFP, clutching a black "Save Sabarimala" flag.
"We've come here since our childhood and understand the rich tradition behind it," he said. "We will do whatever (we have to) to save our Sabarimala."