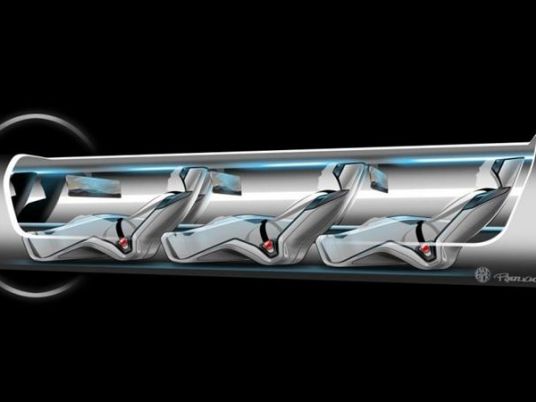 Congested Dubai is looking to the future with a radical new mass transit system able to carry passengers at speeds faster than some airliners.
It may seem like science fiction, but the city plans to host an international competition in September, where designs will be invited for a system that uses a pipeline to propel people and goods in capsules.
Known as a "Hyperloop" link, electric propulsion moves the capsule, or autonomous vehicle, along the pipe in a low pressure environment, to reach speeds of at least 740 miles (1,200 km) per hour — unprecedented for a ground-based system.
Hyperloop is the vision of Elon Musk, the man behind Tesla and SpaceX, who made the technology patent-free in a bid to encourage international scientific collaboration around the futuristic concept.

Future of transportation
And now, Dubai is seeking someone "to shape the future of transportation" by designing a similar transport system that would take people from Dubai to the emirate of Fujairah — on the opposite side of the Arabian peninsula — in just 10 minutes.
The 102-mile (165 km) journey currently takes more than two hours and experts say the cost of building Hyperloop pipes could ultimately be cheaper than building conventional high speed trains.
The Dubai Future Foundation said it will host the
"Build Earth Live"
event in September, with engineering and scientific teams from across the globe presenting their designs to judges over a 48-hour period.
"Dubai is hosting this global event as part of the vision of Vice President and Prime Minister and Ruler of Dubai, His Highness Sheikh Mohammed bin Rashid Al Maktoum, to make the UAE and Dubai a global platform for innovative minds to come together to create futuristic solutions on issues of relevance to humanity," said Mohammed Al Gergawi, Vice Chairman of the Board of Trustees and Managing Director of Dubai Future Foundation.
"This contest is a great opportunity to explore innovative ideas in the smart transportation sector."
According to the official WAM news agency, Al Gergawi said the development of future transportation solutions "will effectively change the way people handle their daily tasks, and the way they work and commute, especially considering that the world is witnessing a technical revolution involving 3D printing, self-driving vehicles, and robotics."
And this would eventually lead to massive global economic growth, he added.
The company behind the pipeline system, Hyperloop One, has ambitions to create high-speed freight and passenger networks across the globe. In June, it signed an agreement to explore adding "high capacity passenger systems" to Moscow's transit, which could make the commute "a fraction of what it is today,"
CNN Money reported.