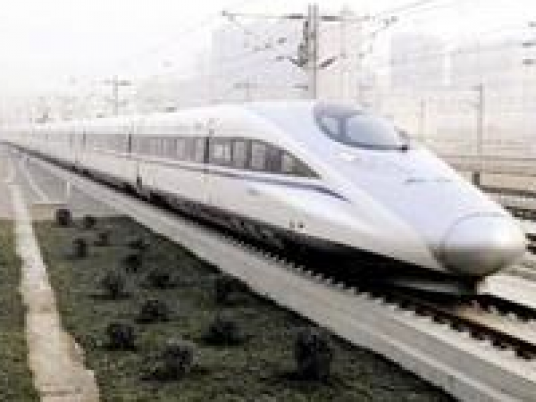 Egypt's National Authority for Tunnels will sign on Wednesday the second contract on financing the electric train project, planned between the New Administrative Capital and al-Salam City, with the Chinese bank Exim, according to informed sources in the Ministry of Transport.
The sources added that the contract will be signed in the presence of Prime Minister Mostafa Madbouli, Transport Minister Hisham Arafat, and Investment and International Cooperation Minister Sahar Nasr to end the four-year negotiations with China on the implementation of the first electric power train project in Egypt.
The sources told Al Masry Al Youm that the deputy director of the Chinese bank Exim arrived in Cairo Tuesday heading a delegation from the bank's board of directors to sign the second contract worth $1.25 billion.
The electric train project runs for 67.846 km, of which 61 km are surface tracks, 6.1 km are over an upper bridge and 0.665 km in tunnels. The line includes 11 stations.
The route starts from al-Salam City at Adly Mansour Metro Station, passes by Cairo-Ismailia Desert Road until the city of Robiki, where it is divided into two lines. The first line will travel north along the Regional Ring Road, while the second line will travel south to the New Administrative Capital.
Arafat announced in December that the Transport Ministry had signed a $1.2 billion loan agreement with the Export-Import Bank of China (EXIM) to fund an electric train project linking al-Salam City, the New Administrative Capital and 10th of Ramadan City.
Arafat added at the time that the new project would contain 11 stations along a length of 67 kilometers and that the ministry would construct the first stage of the train project by end of 2019.
He said the ministry would sign the executive regulation with EXIM by January 2019.
Arafat added that the ministry would implement several train projects including the al-Ain al-Sokhna-Hurghada-Marsa Allam-Luxor express train in participation with the private sector.
President Abdel Fattah al-Sisi and his Chinese counterpart Xi Jinping signed an agreement in September 2017 to construct a $739 million electric train linking 10th of Ramadan City and New Cairo with the New Administrative Capital.
In 2015, CCECC was awarded a $600 million contract from Egyptian National Railways (ENR) to update Egypt's existing railway tracks.
Edited translation from Al-Masry Al-Youm