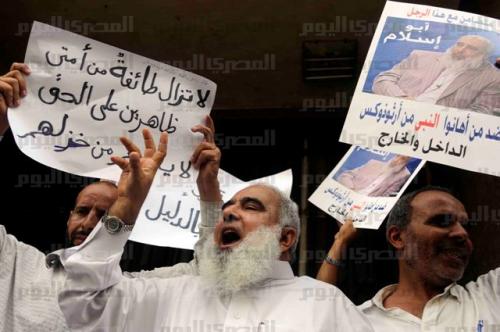 The Nasr City Misdemeanor Court has postponed to November the trial of al-Umma satellite channel owner Sheikh Ahmed Mohamed Mahmoud Abdallah, aka Abu Islam; his son, Islam; and Tahrir newspaper reporter Mohamed Yassin Gadallah over charges of blasphemy.
Abu Islam had been referred to a criminal court over accusations of desecrating the Bible outside the US Embassy in Cairo last month during protests condemning the movie "Innocence of Muslims." He was also accused of insulting Christianity in an interview with Gadallah.
Abu Islam's defense lawyers withdrew from the session, requesting the trial to be considered before a different court as the judges declined to respond to a demand by Abu Islam.
Akhbar al-Youm's web portal said on Sunday that Abu Islam's lawyer asked for the acting Pope of the Orthodox Church to be summoned, to answer questions as to whether or not the book he burned was actually considered a Bible.
The defense lawyers asked for LE1 million to be paid in compensation to Abu Islam and the other defendants, as well as for a specialized committee to review the CDs and videos submitted by Abu Islam, saying the prosecution was not accurate in transcribing them.
The defense also called for summoning Al-Tahrir Chief Editor Ibrahim Eissa.
The prosecution, meanwhile, said the defense's requests were irrelevant to the case.
Edited translation from Al-Masry Al-Youm