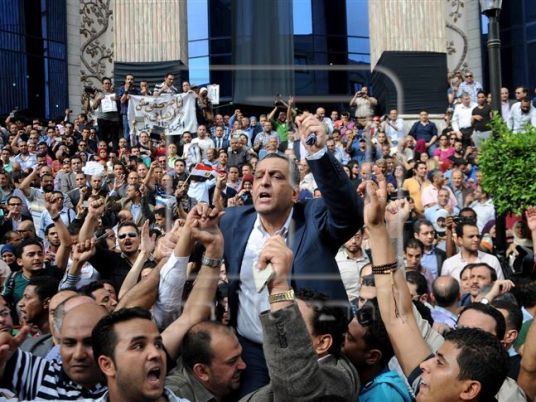 Abdeen court adjourned Saturday the trial of Journalist Syndicate Chairman Yehia Qalash and board memebrs Khaled al-Balshy and Gamal Abdel Rahim to June 18, in response to the defense lawyer's request for more time to study the case.
The defendants arrived at Abdeen Court earlier on Saturday morning to stand trial on charges of sheltering wanted journalists and publishing false news.
Security measures were intensified around the court, and the press was banned from covering the trial from inside the court. Several journalists staged a protest outside the building and raised banners reading: "Journalism is not a Crime."
The defendants face charges of harboring two wanted colleagues, the journalists Amr Badr and Mahmoud al-Sakka, in the syndicate's headquarters, along with charges of circulating false news regarding a police raid of the syndicate headquarters at the beginning of last month.
Upon his arrival to the court, Rahim declared, "Nobody can silence the Journalists Syndicate, whatever happens. No former president — neither Anwar el-Sadat, Hosni Mubarak, nor Mohamed Morsi — did this."
Qalash told the prosecutors, during the his questioning at Qasr El-Nil Police Station, Cairo earlier this week, that he could not at any time prevent a member of the syndicate from accessing its headquarters.
The affair began when police entered the syndicate on May 1 to seize the two fugitives at the height of anti-government protests over the transfer of Tiran and Sanafir islands to Saudi control.
Badr, the editor-in-chief of yanair.net, and his colleague Sakka were wanted on warrant for spreading false news and seeking to incite illegal protests, scheduled for April 25, against the maritime border agreement between Egypt and Saudi Arabia earlier that month.
They took shelter in the syndicate's headquarters in downtown Cairo as police searched for them at their homes.
Police eventually arrested the two men at the syndicate building in a controversial incident that the syndicate described as a violent and "unprecedented" raid.
According to some reports, around 40 police personnel were involved in the operation.
However, the Interior Ministry claims that only a handful of policemen were involved in making the arrests and that the scale and seriousness of the incident had been exaggerated for political purposes.
Following the arrests, Qalash called for the resignation of Interior Minister Magdy Abdel Ghaffar.