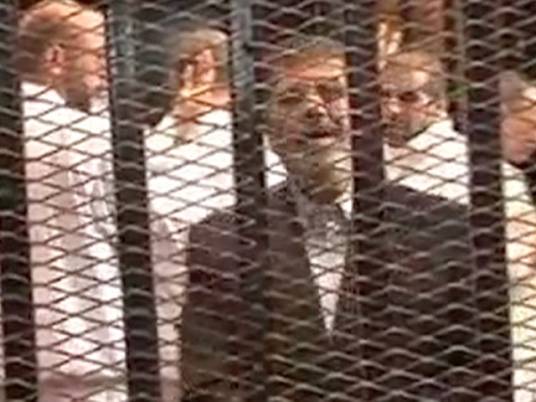 The Cairo Criminal Court will resume the trial of toppled President Mohamed Morsy and 14 Muslim Brotherhood leaders on Sunday over inciting the killing of protesters at the Ettihadeya presidential palace in December 2012.
The court will listen to the testimonies of former Interior Minister Ahmed Gamal Eddin and the Republican Guards' leader Ahmed Ibrahim Fayed. The sessions have been held without media coverage as the ban on publication continues upon the court's order.
Some of the other defendants currently on trial include former Deputy Chief of Staff Asaad al-Sheikha, former director of the president's office Ahmed Abdel Aaty, former security adviser to Morsy Ayman Abdel Raouf, Brotherhood leaders Mohamed al-Beltagy and Essam al-Erian and preacher Wagdy Ghonim.
Protesters headed to the presidential palace in December 2012 to protest a constitutional declaration issued by Morsy immunizing his decisions against judicial challenge as well as the sacking of the former top prosecutor. The protesters and Brotherhood supporters clashed violently outside the presidential palace.
The prosecutions' investigations concluded that Morsy had called on the head of the Republican Guards Mohamed Zaki and Gamal Eddin to break up the protests, but they rejected the order for fear of killing protesters, prompting the defendants to mobilize their supporters to break up the sit-in held by opponents at the palace.
Edited translation from Al-Masry Al-Youm