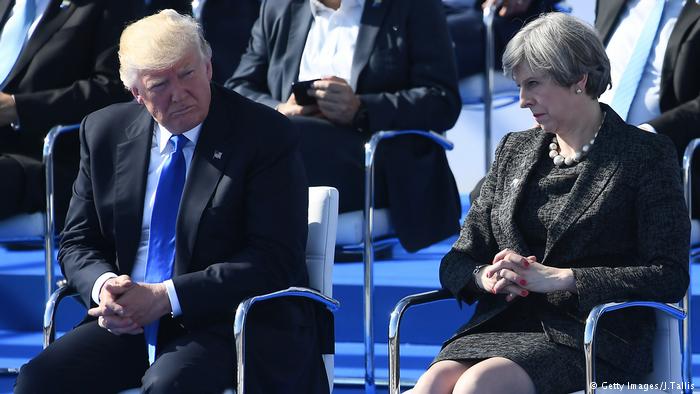 Donald Trump has told British Prime Minister Theresa May to focus on Islamic terrorism after she critized his right-wing tweets. It is unusual for a US president to publicly rebuke the leader of a key ally.
US President Donald Trump on Wednesday told British Prime Minister Theresa May in a tweet that she should not to focus on him but on "the destructive Radical Islamic Terrorism" in the United Kingdom after she criticized his far-right, anti-Muslim tweets.
"@Theresa_May, don't focus on me, focus on the destructive Radical Islamic Terrorism that is taking place within the United Kingdom. We are doing just fine!" he wrote on Twitter.
The public broadside against the United States' closest ally came in response to criticism from the prime minister's office after Trump earlier in the day retweeted anti-Islam videos posted by the UK far-right Britain First group.
Trump's retweeting of three videos posted by Jayda Fransen, the deputy leader Britain First, prompted outrage in the UK. Fransen had previously been convicted of a hate crime for hurling abuse at a Muslim woman wearing a headscarf.
May's spokesman said it was "wrong" for Trump to circulate material purporting to show Muslim violence. Britain First's rhetoric is "the antithesis of the values that this country represents," the prime minister's office said.
"Britain First seeks to divide communities through their use of hateful narratives which peddle lies and stoke tensions. They cause anxiety to law-abiding people," the spokesman said.
Labour Party opposition leader Jeremy Corbyn had called on the government to condemn Trump for sharing anti-Muslim content. "They (Britain First) are abhorrent, dangerous and a threat to our society."
Trump's tweet to May incorrectly mentioned @theresamay, a Twitter user with six followers and not the British prime minister.
Minutes later Trump deleted the tweet and wrote the same message to May's official Twitter account, @theresa_may.
Doesn't matter if videos are real
Earlier in the day, White House spokeswoman Sarah Huckabee Sanders sought to play down the anti-Muslim retweets, saying Trump wanted to "promote strong borders and strong national security."
"Whether it's a real video, the threat is real and that is what the president is talking about," said Sanders.
Snopes, a fact-checking website, said that one of the videos Trump retweeted allegedly showing a Muslim migrant beating up a Dutch boy on crutches was false.
Citing the North Netherlands Prosecution Office and the Netherlands Embassy in Washington, it said the attacker in the video was born and raised in the Netherlands.
The second video shows a Syrian rebel tied to the al-Qaeda linked al-Nusra Front destroy a statue of the Virgin Mary.
The third video apparently shows a boy being beaten and thrown off a building was from Egypt in 2013. The boy was a young cleric and critic of former President Mohammed Morsi.
Legitimizing the far-right
Britain First, a fringe group struggling to stay afloat as its leaders face impending prosecution and as it fights for supremacy among rival right-wingers, reacted with glee to the unlikely official publicity from the White House.
"The President of the United States, Donald Trump, has retweeted three of deputy leader Jayda Fransen's Twitter videos … God bless you Trump!" said a block-capital response from Britain First on the social media platform.
Brendan Cox, the husband of the late British MP Jo Cox, killed in 2016 by a right-wing extremist who reportedly screamed "Britain First" before stabbing her repeatedly, accused the US president of attempting to spread far-right sentiment in the UK with his retweets.
"Trump has legitimized the far-right in his own country, now he's trying to do it in ours. Spreading hatred has consequences and the president should be ashamed of himself," Cox wrote.
UK politicians broadly condemned Trump, with some suggesting the US president should not come for an official visit slated for next year.
Trump's tweets sour relations with UK
It is not the first time Trump has landed in hot water over tweets related to the UK.
In September, Trump used a bomb attack on a London underground station to call for tougher measures against terrorism in a tweet that criticized Scotland Yard.
The tweet said "sick and demented people who were in the sights of Scotland Yard" carried out the attack, raising questions of whether Trump had shared classified intelligence during an ongoing investigation.
The tweet drew criticism from the UK prime minister and other politicians.
In June, Trump criticized London Mayor Sadiq Khan for saying there was "no reason to be alarmed" after a terror attack on London Bridge and in Borough Market. He also used the London attacks to promote gun rights in the United States and slam political correctness.
US and UK political figures criticized Trump's tweets at the time.