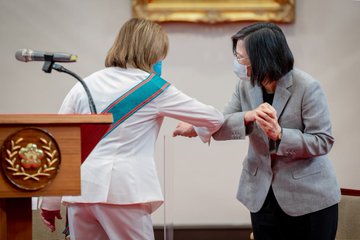 In a tweet Wednesday afternoon, Taiwanese President Tsai Ing-wen shared photos of her meeting with US House Speaker Nancy Pelosi earlier in the day.
"A pleasure to meet with [Speaker Pelosi] & recognise her longstanding support for Taiwan," Tsai wrote. "Your visit not only reflects strong US congressional support for bilateral ties – it also sends a message to the world that democracies stand together in the face of common challenges."
The photos show Tsai and Pelosi waving to reporters and officials in the room, and the moment Tsai bestowed Taiwan's highest civilian honor upon the Speaker.