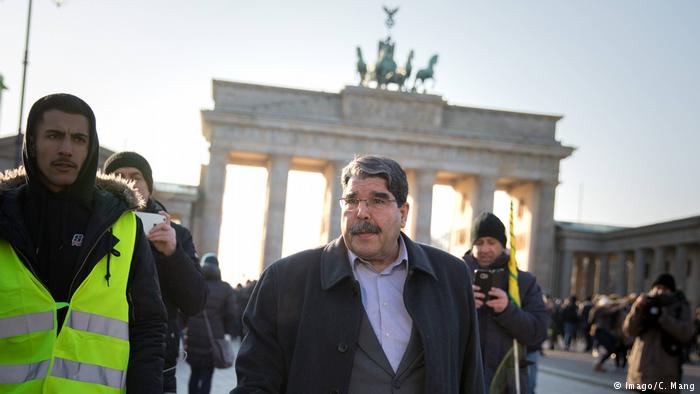 Turkey on Monday asked German authorities to detain and extradite Salih Muslim, the founder and former co-chair of Syria's Democratic Union Party (PYD), the country's state-run Anadolu Agency reported on Monday.
Muslim was detained in Prague last week on a Turkish arrest warrant while attending a conference on the Middle East. A Czech court later ordered his release on the assurance that he will remain in European Union territory and cooperate in any further proceedings in his extradition case.
Turkey, which considers the PYD a terrorist group, wants Muslim extradited to face terrorism charges. Muslim rejects the allegations.
The PYD is the political wing of the People's Protection Units (YPG), which has ties to the banned Kurdistan Workers' Party (PKK) fighting a three-decade-long insurgency against the Turkish state.
Anadolu news agency said Ankara had requested Muslim's temporary detention and extradition from Germany on Friday.
Muslim took part in a pro-Kurdish demonstration in Berlin on Saturday to protest against the Turkish military offensive in Afrin, a Kurdish enclave in northwest Syria.
Troubled relations
A spokesman for Germany's interior ministry declined to comment on the case of Muslim, citing privacy rules.
"In general terms, should we receive such a tracing request, either bilaterally or via Interpol, then there always needs to be a very, very diligent examination procedure," Johannes Dimroth told reporters in Berlin.
He added that the German government would take into account "all aspects that need to be considered in such situations" before making a decision.
Relations between Turkey and Germany have deteriorated since the failed coup against Turkish President Erdogan in 2016 and the crackdown that followed. Germany has openly criticized Turkey's increasingly autocratic government, human rights violations and arrests of journalists in the aftermath of the failed coup.
The release of German-Turkish journalist Deniz Yücel last month was seen as potentially leading to a thaw in the icy relations between the two NATO allies.
Turkish Foreign Minister Mevlut Cavusoglu is scheduled to arrive in Berlin on Wednesday and meet acting German Foreign Minister Sigmar Gabriel.