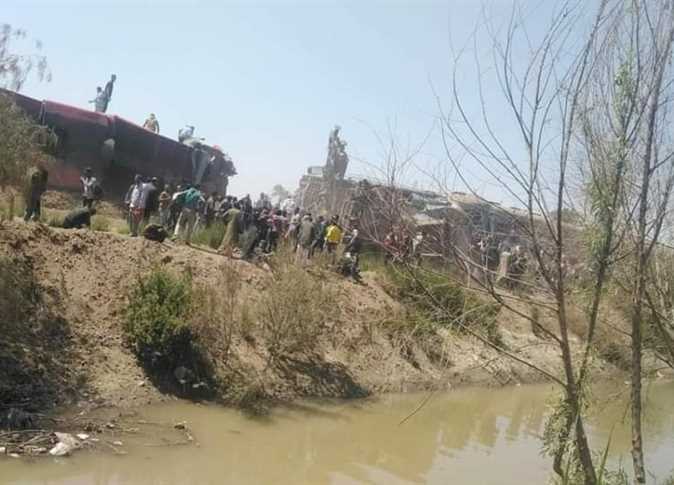 The Turkish government offered its condolences to Egypt after a train derailed in the northern city of Toukh, killing 11 people and injuring dozens.
"We have received the news with deep sorrow that at least 11 people lost their lives and many were injured in a train accident today (18 April) in Toukh city, Qalyubia province of Egypt," the Turkish Foreign Ministry said in a statement on Sunday.
"We wish Allah's mercy upon those who lost their lives in the accident, swift recovery to the injured and extend our condolences to the friendly and brotherly people of Egypt as well as the families of the deceased," it added.
Egypt's Ministry of Health and Population announced the accident on Sunday, confirming the death of 11 and that 98 others were injured.
The Egyptian National Railways authority announced that it is conducting an investigation to determine the causes of the accident
Informed sources said that Transport Minister Kamel al-Wazir rushed to the scene of the accident, which occurred at roughly 2:05 pm.
The Cairo-Mansoura train #949 had departed from Cairo at 1:20 pm and was scheduled to arrive in Mansoura at 5 pm.
Train accidents have been a common occurence in Egypt, with some resulting in a large number of deaths and injuries.
Egyptian President Abdel Fattah El-Sisi has ordered a rebuild of Egypt's national rail system in which authorities will update the lines, add new lines, and increase overall safety.
The railway renovation is part of a larger ongoing transportation overhaul that includes new high-speed trains, additional metro lines, and road improvement projects.
The Turkish Foreign Ministry's statement coincides with indications of a possible improvement in relations between Egypt and Turkey. The two countries have had strenuous relations since 2013, after the Turkish authorities objected the ousting of former President Mohamd Morsi.