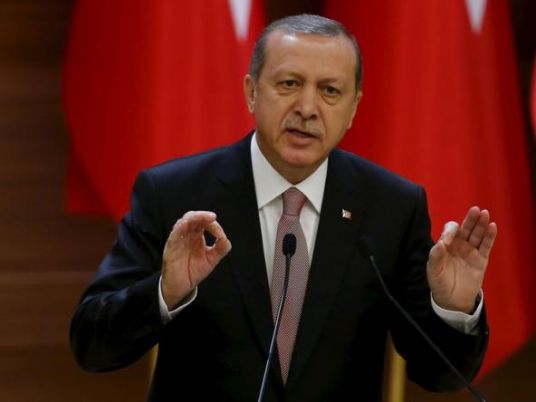 Turkey's President Recep Tayyip Erdogan has said the rift between Turkey and Russia over the downing of a Russian fighter jet for violating Turkish airspace would not harm the construction of Akkuyu nuclear power plant.
"There is no indication that mega projects or large scale energy infrastructure projects will be halted or paused," Erdogan said.
Russian state atomic energy corporation Rosatom will build Turkey's first nuclear power plant at a cost of US$20 billion in the southern province of Mersin on the Mediterranean coast.
Following the downing of the jet on November 24, Russia has announced sanctions against Turkey, with Russian President Vladimir Putin levelling accusations against the Turkish president and threatening that Ankara would regret shooting down the jet.
'Turkey paused the Turkish Stream Project, not Russia'
Erdogan added that the Turkish Stream pipeline project, which was planned to carry Russian natural gas to Europe through Turkey, was not halted by the Russian side, but the project was paused by Turkish authorities on account of failing to meet Ankara's demands.
On December 3, Alexey Miller, CEO of Russian energy company Gazprom, announced that Turkey had not turned to Russia with a proposal about the project, as it was waiting for an intergovernmental agreement between Ankara and Moscow, which resulted in the suspension of the talks.
Additionally, Erdogan underlined that Turkey may be in need of natural gas and oil but Moscow was not its only option. "Besides Russia, Turkey has natural gas agreements with Iran, Azerbaijan, Nigeria, Qatar, and Algeria," he said, adding that in addition to natural gas, Turkey has oil deals with Iran and Saudi Arabia.
He also said that despite Turkey's dependency on natural gas to generate power, the country is currently able to deploy alternative natural resources in order to generate electricity through wind, solar, thermal and hydro energy.
Turkey's annual natural gas consumption is around 50 billion cubic meters, and 55 percent of the natural gas is imported from Russia, followed by Iran with 18.1 percent.
Following the downing of a Russian fighter jet after it had violated Turkish air space despite multiple warnings from the Turkish military, the relations of the two countries soured rapidly, kicking off Russian economic measures against Turkey.
Ankara responded strongly and said it cannot be held responsible for defending its borders and airspace. Turkey also announced that the government is working on some possible economic retaliation against Moscow.
Turkey maintains that the jet was warned over and over as it approached Turkish airspace but it ignored all warnings. Ankara also states it was not aware of the aircraft's nationality.