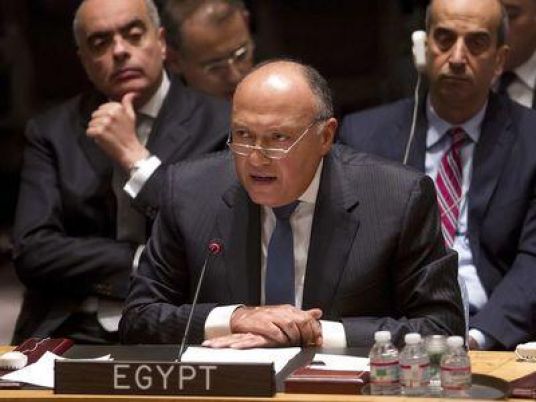 Egyptian Foreign Minister Sameh Shoukry said on Saturday that the Turkish aggression against Syria is an unacceptable "occupation" towards a brotherly Arab country.
"We reject regional interventions aimed at destabilizing Arab countries," Shoukry said during an urgent meeting of Arab foreign ministers at the Arab League in Cairo.
The emergency meeting, requested by Egypt, was held on Saturday to discuss the repercussions of the Turkish aggression on Syria.
Shoukry added that "Turkey seeks to export internal crises by rushing in its aggressive policies. It should bear the responsibility for any repercussions of its blatant aggression, and the international community should bear its responsibilities."
Last week, the Egyptian Foreign Ministry issued a statement condemning the Turkish attack on northern Syria, calling it a "blatant attack" on Syria's sovereignty.
It stressed that this step represents an unacceptable assault on the sovereignty of a friendly Arab state, taking advantage of the circumstances and current developments in contravention of international law.
The Egyptian statement warned of the consequences of the Turkish attack on the unity and territorial integrity of Syria or the course of the political process in Syria in accordance with Security Council Resolution 2254.
Shoukry said that the Turkish aggression against Syria proves the Egyptian vision against the expansionist desire of the Turkish regime.
He said that the Turkish regime should review its policies, especially in light of the widespread international condemnation of the aggression launched on the north of Syria.
Edited translation from Al-Masry Al-Youm