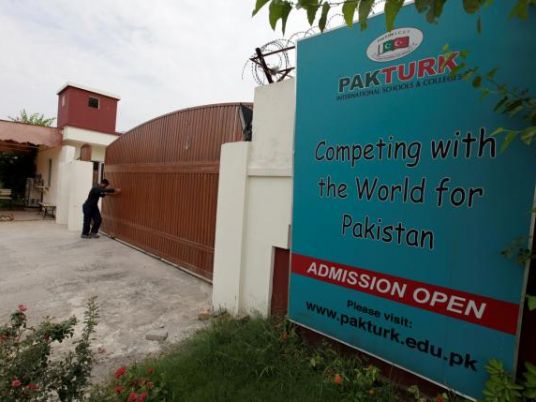 Pakistan promised Turkey's visiting foreign minister on Tuesday it would investigate a network of schools Ankara wants shut for alleged links to the U.S.-based Muslim cleric it blames for last month's coup attempt.
However, foreign policy chief Sartaj Aziz stopped short of agreeing to close PakTurk International Schools and Colleges, which educates 10,000 students and denies any affiliation with the cleric.
The request by Turkey is part of an international campaign by President Tayyip Erdogan against the interests of Fethullah Gulen and his religious movement.
Erdogan and the Turkish authorities blame the cleric and his followers for orchestrating last month's failed military coup, in which more than 230 people were killed.
Gulen, who lives in self-imposed exile in Pennsylvania, USA, preaches Sunni Islam together with a message of interfaith dialogue.
He denies any involvement in the failed coup.
Since then, thousands of people have been detained, suspended from work or placed under investigation, with the government vowing to purge the army, police and judiciary of elements it says support Gulen.
In Islamabad, Turkish Foreign Minister Mevlut Cavusoglu said Gulen's "terrorist group" should be stamped out.
"It is not secret that this organization has institutions or their presence in Pakistan and in many other countries," he said.
"I am sure the necessary measures will be taken. We have to be very careful with such organizations and their causing risk and threat for the security and stability of every country that they have presence."
Aziz congratulated Turkey for its "victory for democracy and liberty" and said Pakistan would look into the schools but hoped to keep them open as they were well managed and provided good education.
"We will try to find an alternative arrangement for the schools to continue whereas their other activities have to be managed or curbed," he said.
Turkey and Pakistan have traditionally had close ties, which have warmed further under the leadership of Erdogan and Pakistani Prime Minister Nawaz Sharif.
Turkey has applied pressure to other countries that are home to Gulen-backed institutions.
Gulen's Islamist "Hizmet" movement runs some 2,000 educational establishments in about 160 countries.
The PakTurk organization, which has been operating in Pakistan for 21 years and has more than two dozen campuses, denied being part of Gulen's network.
"We are deeply concerned by allegations … trying to connect the PakTurk International Schools and Colleges in Pakistan with Mr Fethullah Gulen," it said in a statement.
The schools had "no affiliation or connection" with any political or religious organizations, it said.