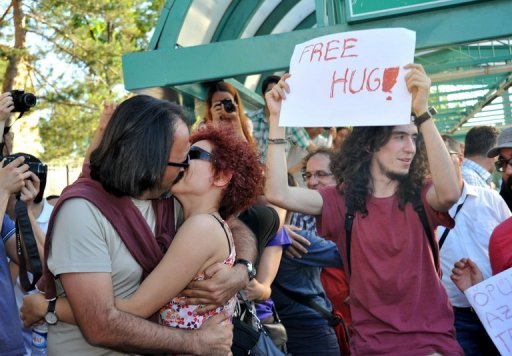 Police sealed off a hotel in Ankara on Sunday, preventing dissidents in Turkey's nationalist opposition from holding a party congress that could jeopardize President Tayyip Erdogan's plans for more power.
Several hundred members of the Nationalist Movement Party (MHP) have launched a bid to oust Devlet Bahceli, leader for much of the last two decades. To do so they need to change party rules at a special congress.
The AK Party needs the MHP's support to change the constitution to give Erdogan more powers. Bahceli loyalists seem willing to do this, but dissident leaders, including former interior minister Meral Aksener, have said they will oppose the plan.
Dissident leaders issued a statement on Sunday accusing Erdogan's AK Party of intervening to try to block the congress.
"The executive branch staged a coup against the judiciary branch. The constitution and law are being suspended. A change in the MHP became the AK Party government's nightmare," the dissidents said in their statement.
Around 5,000 people gathered at police barricades near the hotel where the congress was scheduled to take place. Police sealed off the road leading to the hotel with barricades and water canon. "Bahceli should resign," the crowd chanted.
"If the MHP gets stronger it will become an alternative to the AK Party," said Ibrahim Dizdar, previously the provincial head of Giresun, who was suspended by Bahceli.
"The government is trying to prevent us because they are seeing our excitement here today."
Bahceli's party won about 12 percent in last November's election, getting 40 seats in parliament, which the AK Party needs to call a referendum on changes to the constitution to grant the president greater power.
Aksener has vowed to defend Turkey's parliamentary system and oppose Erdogan's plan.
AK Party officials reject any suggestions that the MHP's leadership battle and their party's efforts to win its support on constitutional change are in any way linked.
Turkish courts on Friday gave conflicting rulings on whether the nationalist opposition can hold the congress.
Bahceli's faction sought an injunction to block the meeting but an Ankara court upheld the dissidents' countersuit. State broadcaster TRT reported verdicts from two other local courts that would halt the congress.
An appeals court ruling is expected this month and will have the final say on the dispute.