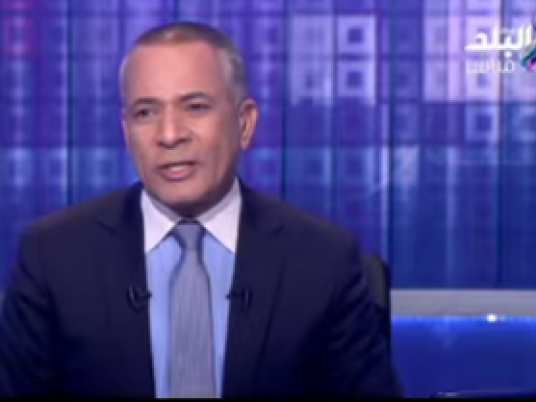 TV presenter Ahmed Moussa said late Tuesday he was going to challenge a two-year sentence upheld by the Nasr City Appeals Court for libel charges.
In his show on the satellite TV channel Sada El-Balad, Moussa, a staunch supporter of Abdel Fattah al-Sisi's government and a vocal opponent to the 2011 uprising against Hosni Mubarak, said "I respect the Egyptian judiciary and there are other levels of litigation which I will resort to."
On Tuesday, the appeals court upheld a March verdict which sentenced Moussa to two years in prison for slandering Osama al-Ghazaly Harb, chairman of the Free Egyptians Party's board of trustees, in one of his TV episodes.
"Mr. Farid al-Deeb will take the necessary measures on the decision to uphold the sentence," Moussa said, referring to the lawyer who defended Hosni Mubarak and will likely defend Moussa as well.
This is not the first time Moussa has received a sentence for attacking a politician.
In February, he was handed a six-month prison term and a LE5,000 fine for libel and slander charges concerning Tarek al-Awady, a lawyer representing the Ultras White Knights' football fan group.
In January, Moussa was fined LE15,000 in a lawsuit brought against him by activist Israa Abdel Fattah, a prominent opposition figure against the Mubarak regime and military authorities.
Edited translation from Al-Masry Al-Youm