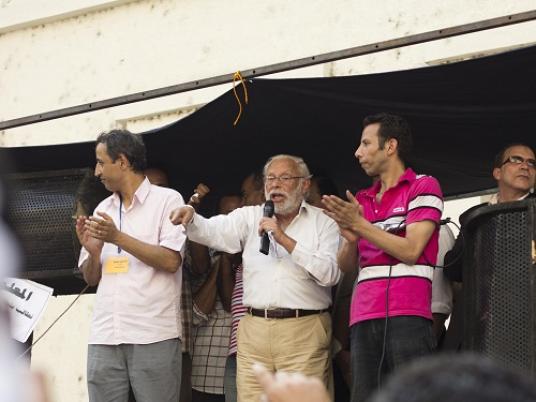 Twelve new cemeteries were discovered in Gabal al-Silsila, Aswan, dating back to the New Kingdom, under the Pharaonic kings Thutmose III and Amenhotep II. The announcement was made on Wednesday by Mahmoud Afify, Chairman of the Egyptian Antiquities Sector.
The discovery came during excavations conducted by a mission affiliated to Lund Swedish university and headed by professors Maria Nilsson and John Ward, Afify added in a statement.
Remains of human and animal skeletons were found in the cemeteries, said Afify, emphasizing that studies on these remains would help reveal the extent of medical advancement during the New Kingdom era.
Some of the discovered cemeteries were used to burry animals, said Director General of Aswan and Nubia Antiquities, Nasr Salama.
An scarab amulet found in the tomb of one of the discovered cemetaries.
Parts of stone, pottery, and cartonage coffins were found in the cemeteries, as well as amulets and scarabs.
Initial studies on the remains of the human bones that were found in the graves indicate that a number of the buried were healthy individuals. Some others suffered from malnutrition or bone fractures, apparently due to increased muscular effort and occupational hazards, according to Nilsson.
Over the coming period, the mission will conduct further studies on the discovered cemeteries, she said.
Nilsson expressed happiness at the results of the mission's work since 2012, as well as appreciation for the support that the Antiquities Ministry has providing to the mission.
The mission had previously uncovered a rock painting dating back to the Late Pharaonic Period; a statue depicting a Sphinx; and a number of places that were dedicated to animal husbandry, according to Ward.
The back of the scarab amulet found in one of the tombs.