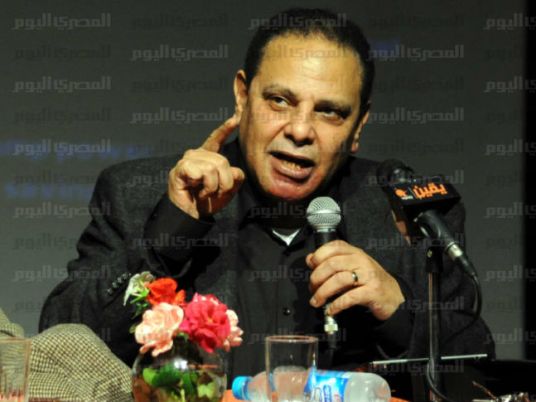 French ambassador to Egypt André Parant on Monday awarded the Egyptian novelist Alaa al-Aswany the "Médaille de chevalier des Arts et Lettres" (the knight medal of Arts and Literature), which is considered one of the highest decorations in the French Republic, given to world writers who have influenced the French people with their work and whose work is considered an addition to the global culture.
Parant listed the reasons for awarding Aswany the medal, stressing that he is now the most famous and capable Arab writer who affects world literature. Publishers, writers, musicians, journalists and a wide range of intellectuals attended the party on Monday.
"I have often wondered about the reward offered by the writing profession, what is due to the author from sitting alone writing for long hours every day over the years? What is the return of all this painstaking continuing effort? Is it wealth?," Aswany wondered during his speech.
"The effort [exerted] in writing, if exerted by a man in other occupations would achieve two-fold the money he makes from writing. Is the reward of writing the fame? What does fame mean? To enter a restaurant to eat, then all the customers recognize you while you know none of them? What a superficial thing! There are great figures who provided humanity with important achievements but did not become famous; while at the same time, there are many famous people who did not provide anything useful, but sometimes trivial or even harmful.. then the reward for writing is not the fame," Aswany said.
Aswany asked: "If the rewards of writing are not the money nor the fame, then what are they?"
And he answered: "The real reward of writing is the appreciation. To feel as a writer that there is an audience – even if it is just a few people – who appreciates the effort you made and enjoys your novels and understands what you wanted to say."
"A writer's felling of being appreciated is the reward for writing, so I live now a moment of great pleasure. Getting this great honor is my reward for long years of strenuous work and difficult struggle in writing. This award will continue to be a source of honor and pride for me."
The works of the world writer Alaa al-Aswany are translated into French by one translator, Gilles Gauthier.
"I speak English, French, and Spanish, but I believe that French is not just a language functioning as a mean of communication and expression. French culture is the liberal vision of the world, which is a deep and honest bias for freedom, justice, art and literature," Aswany concluded.