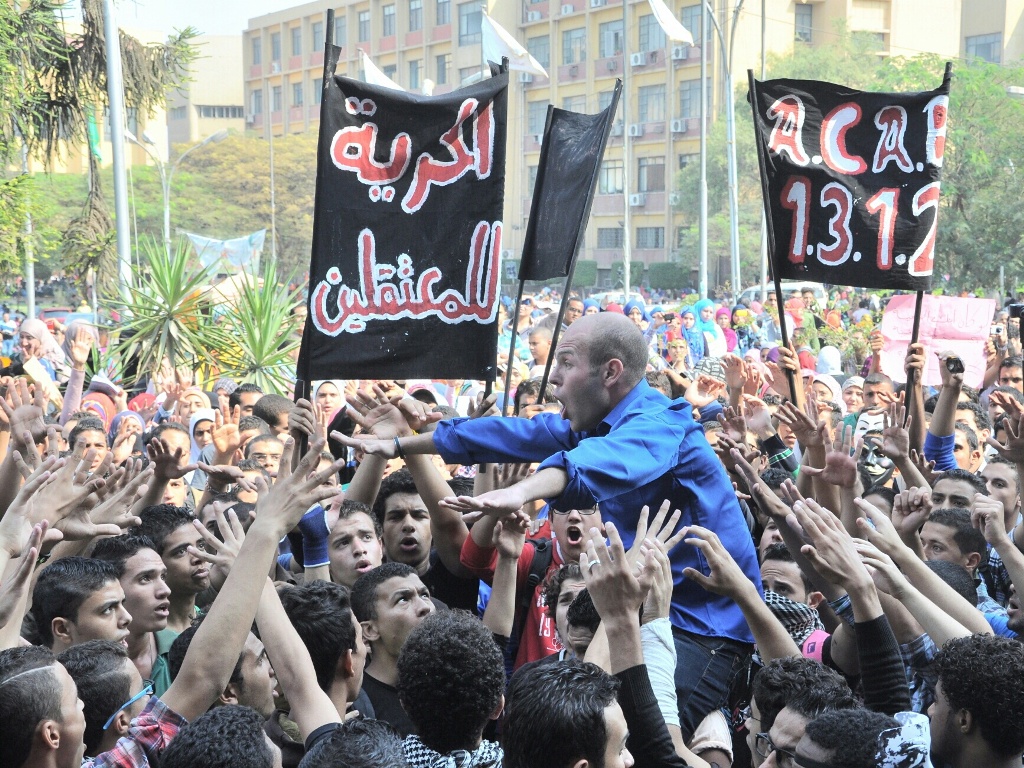 Cairo's misdemeanor court sentenced on Wednesday twelve pro-Mosry students from Al-Azhar University to 17 years in prison on charges related to off-campus rioting in October on the premises of Al-Azhar Sheikhdom headquarters.
Defendants were also ordered to pay a bail of LE64,000 (US$9,300) each. The amount is due for their release until they are retried before the court of appeals. "Two have paid, others could not afford it so they are still in custody," said Mohsen Bahnasy, a human rights lawyer.
The recent unprecedented sentence against University students is likely meant to be a tough warning message for any Muslim Brotherhood (MP) supporter whether off or on campus that "the judiciary – which was in conflict with Morsy when he was in power– will sharpen its teeth against any MB protests or any attempt to attack statesmen," said Bahnasy.
The 12 defendants were indicted of six charges including, mobbing, thuggery, attempting to storm the headquarters of Al-Azhar institution, inciting riots and attacking Al-Azhar employees and security personnel, possessing guns and ammunitions as well as sabotaging public and private property.
Students had protested against the Sheikhdom, which is presided by Sheikh of Al-Azhar Ahmed el-Tayeb, as he gave his blessing to Defense Minister Abdel Fattah Al-Sisi to oust the former Islamist President Mohamed Morsy on 3 July 2013.
"Attackers threw stones at Al-Azhar Sheikhdom, damaging the building's ground floor and three private cars and beating up Hisham Hashem Qotb, a security personal and Abdul Qader Ibrahim, a car driver," reads the verdict. "Defendants intended to wreak havoc at the Sheikhdom with the goal of demeaning the army, police and Al-Azhar."
In response to what is considered the toughest penalty against students ever, students marched in protest on Thursday from the School of Medicine to the university administration building and then headed off campus. Quarrels took place between students and motorists after the march arrived at off-campus al-Nasr Street.
The military deployment in most of vital streets nationwide curtailed Muslim Brotherhood's expectedly frenzied response of holding a "million-man demonstration" called by the pro-Mosry National Alliance in Support of Legitimacy and other Muslim Brotherhood groups. Yet few protests broke out on Friday under the name of "No to Retaliatory Justice."
Mahmoud Salah, a spokesperson for Students Against Coup (SAC) described the trial as "disgraceful."
The pro-Morsy Al-Wast Students movement considered the "politicized" ruling a crime against student freedom, criticizing in a statement that the ruling was "charging the defendants with possessing guns, however no guns were confiscated." Although no guns were confiscated, the prosecution had apparently considered holding stones the same as guns because they could both lead to fatalities.
Even secular human rights lawyers viewed the verdict as "tougher-than-expected penalty" as "the Egyptian law punishes defendants over the most dangerous crime they commit in the case they commit multiple crimes at the same time," said Hamdy Khalaf, lawyer at the Egyptian Initiative for Personal Rights.
According to Bahnsy, although it is not a criminal court, it issued "an excessive punishment" that is far surpassing the crime committed, given their charges are based on police investigations that are not entirely proved credible rather than concrete evidence, Bahnay say.
Bahnasy, who was a former member of a fact-finding committee investigating crimes committed during the 25 January uprising until Morsy came to power, told Egypt Independent that given they are just students, the defendants have the right to appeal before the High Court of Appeals that could probably commute the sentence or acquit the defendants.
"Such politicized verdict is going to ignite the street; suffice it to say that no one of the people charged with killing demonstrators had received such strong sentence," he said.
Since the beginning of the new academic year in September, Egypt's university campuses have been witnessing tense and sometimes violent demonstrations after the government rounded up Muslim Brotherhood leaders who call for the return of Mohamed Morsy as the "legitimate" president of the country. An estimated of 10,000 Muslim Brotherhood members are in prison, according to Faisal al-Sayyed, member of the Freedom and Justice Party's legal committee in an earlier report by Egypt Independent.