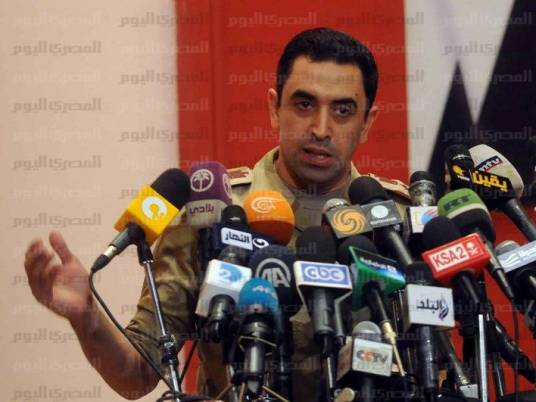 Military Spokesperson Ahmed Mohamed Ali announced that two houses in Sinai had been targeted for sheltering "very dangerous" extremist elements.
Ali posted on Facebook saying, "Air defense plans targeted on Wednesday two houses of very dangerous extremists affiliated to the terrorist Muslim Brotherhood group in the south of Sheikh Zuwaid."
The operation led to the destruction of a "deserted house with a farm, owned by Ayesh al-Wahshy, a dangerous extremist in North Sinai. The house is used for sheltering extremist elements and stockpiling weapons and ammunition."
A large blast also exploded at the house, according to Ali, due to the presence of large amounts of explosives and ammunition inside.
"Air Defense forces also destroyed a house belonging to Morsy al-Joker, an extremist involved in targeting a military helicopter on Friday," Ali added.
"Armed forces in North Sinai reported killing two extremists, Salman Abu Zereiy and Gamil Sueliman Abu Zereiy, during the aerial bombardment of terrorists havens south of Sheikh Zuwaid," Ali said.
Many North Sinai residents deny ties to terrorist groups and say they are victims of random and retaliatory attacks by army forces.
Head of the Sinai Tribes Union Ibrahim Menai told Egypt Independent that the Egyptian military follows a policy of scorched Earth, referring to the burning of houses and mass arrested in North Sinai.
Menai said the strategy has caused many innocent people to suffer injustice at the hands of the army. "You create every day 100 terrorists. And if you kill people, you will create many terrorists," he said.
An informed source in the armed forces told Egypt Independent that all attacks on residences are carefully chosen through collected intelligence, proven to be places of terrorist gatherings, and have resulted in little to no collateral damage.