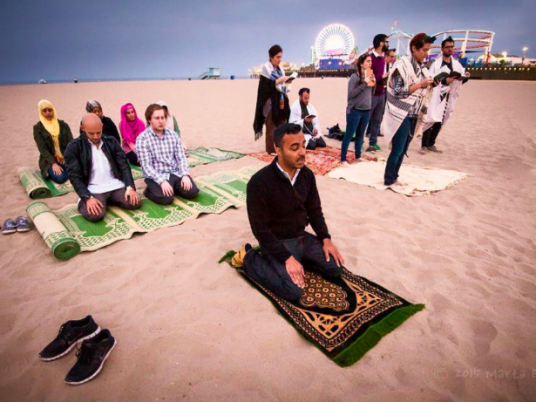 In the early morning of May 3rd, a group of 20 Muslims and Jews came together to pray in public at five different locations across Los Angeles, both with their own liturgies, to dissolve the wall that was built between them under the pretext of religious differences and political correctness.
The beach was the starting point for the 'Two Faiths, One Prayer' initiative, where, side-by-side, Muslims unrolled their prayer rugs and Jews held their siddur (Jewish prayer book) in a moment of unity and profound connection.
The resonant, melodious sound of both prayers intertwined peacefully, piercing the soothing ocean waves crashing on the shore.
"'Allah Akbar', of course. It was this moment of just joy and realization of praising God together," participant Kerry Chaplin said while beaming with enthusiasm.
For other participants, the idea of shared prayers was more than a feeling of harmony, it was a transformational life-experience: "The first time that people prayed together, the first time I heard someone say 'Allahu Akbar,' I had like a physical reaction," Carey Fried said. "I was a hardcore pro-Israel, anti-Arab in the past. So it's been a huge change for me."
Maryam Saleemi echoed the sentiment. "I would have never expected to do this before. I have never had a Jewish friend. I was always reluctant to be their friend just because I didn't know how they felt about me. But I feel like I have made some of the closest friends in my life."
After the morning prayer, participants shared some precious moments together mingling, eating breakfast, playing and exchanging chitchat on different topics.
Jewish and Muslim participants take a selfie, captured by Marta Evry.
The initiative was inspired by the participants' previous, eye-opening experience during an interfaith fellowship, 'New Ground: A Muslim-Jewish Partnership for Change', where they succeeded in reaching a common ground.
Consequently, they decided to translate their hopes and vision into a realistic example and offer a hands-on experience.
"People around us will see that…it plants the seeds of hope and seeds of possibility of peace," Chaplin said.
Muslims and Jews pray together during the Mincha/Asr Prayers (afternoon prayers) in Exposition Park, captured by Marta Evry.
As the day progressed, the group prayed in different places, garnering a great deal of attention and encouraging more passers-by to stop and join in with their friends and families.
"I think everyone was a little nervous," Eli Rarey said. "We didn't know what to expect. We didn't know how many people will come, We didn't know who those people will be."
As more than 60 people began trickling over to the steps of City Hall at sunset, the evening prayers, Maghreb (Muslim) and Maariv (Jewish), were felt even more wholeheartedly and overhwhelmingly than the prayers that were performed earlier in the day.
A rabbi and a sheikh are speaking, captured by Marta Evry.
Under the stars and surrounded by the downtown skyline was the last stop of the day. On the rooftop of a building in Los Angeles, over a hundred supporters began reciting the nighttime prayers, Isha (Muslim) and Piyyutim (Jewish liturgical poem), in a harmonic and unified atmosphere.
Muslim women bow down to make sujood (prostration) while Jewish women recite Piyyutim (Jewish liturgical poem), captured by Marta Evry.
"I think we pulled it off," Rarey said in an optimistic, energetic tone. "That prayer just exceeded any expectations that I ever have."
As the idea was met with excitement and agreement, the initiative's participants pledged that "May 3rd was only the beginning."
Watch the documentary
video
of the shared prayers on the initiative's website.
Muslims and Jews stand side-by-side prior to prayer, captured by captured by Marta Evry.
Jewish and Muslim women hold hands, captured by Marta Evry.
Muslims shake hands after prayer, captured Marta Evry.