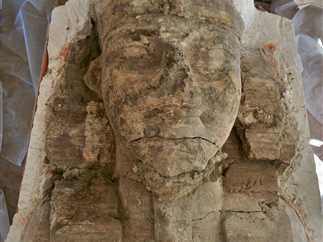 The Egyptian-German archaeological mission headed by Professor Hourig Sourouzian succeeded, in a new discovery during its current archaeological season.
While restoring the statues of Memnon and the funerary temple of King Amenhotep III, known as the "Temple of Millions of Years " on the western mainland in Luxor, they also discovered a group of huge stones of two royal statues in the form of the Sphinx and statues for the goddess Sekhmet.
The mission revealed the remains of walls and columns decorated with ceremonial and ritual scenes, according to Mustafa Waziri, Secretary General of the Supreme Council of Antiquities.
Waziry explained that among the discovered pieces were parts of two colossal limestone statues of King Amenhotep III in the form of a Sphinx, wearing a mongoose headdress, a royal beard and a wide necklace around the neck.
The items were found in the back area of ​​the gate of the third edifice, he said, adding that all the pieces of these two statues had undergone careful cleaning, strengthening and restoration.
This demonstrates  the presence of an inscription in the chest area bearing the royal name of Amenhotep III, which is "The Beloved of the Deity Amon Ra."
He added that the mission also found three black granite busts of the goddess Sekhmet, at the front of the open courtyard, and the great pillared hall of the temple.
These pieces will be grouped with other pieces found earlier at the site in preparation for displaying them in their original places in the temple.
A number of inscriptions on sandstone wall with scenes representing Valentine's Day celebrations – a dam and a small black granite statue for one of the employees, perhaps sitting next to his wife, were also discovered.
According to studies, it is likely that these statues date back to the post-Amarna Period when restoration work continued in this temple by artists and writers. 
Sourouzian stressed the importance of the discoveries, as it confirms that the beginning of the procession road was located between the third edifice of the temple and the courtyard of the columns.
She pointed out that the initial studies conducted by the mission on the two sphinxes showed that its length is approximately eight meters.
The project to restore the statues of Memnon and the temple of King Amenhotep III, began in 1998 under the supervision of the Ministry of Tourism and Antiquities and the German Archaeological Institute to preserve the remains of the temple and rebuild it again.
It is known that King Amenhotep III had built his mortuary temple, which he called the Temple of Millions of Years on the western mainland in Luxor.
Unfortunately  it was destroyed as a result of a devastating earthquake that swept the country during ancient Egyptian times.