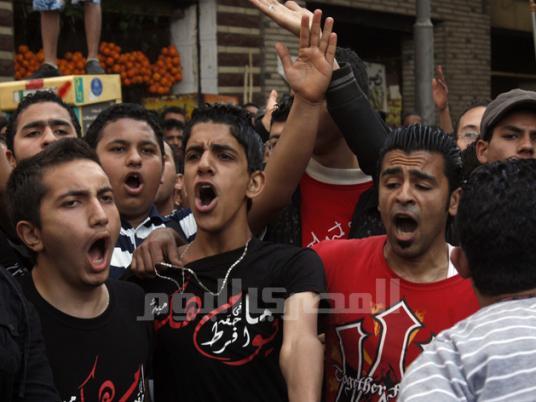 Hundreds of hardcore Ahly football team fans decided Sunday to suspend their sit-in at the People's Assembly temporarily until the outcome of the Port Said football violence trial comes out, Al-Masry Al-Youm reported.
Ultras Ahlawy started the sit-in to protest what fans say are weak punishments for Port Said's Masry football club, and to demand harsher punishments for the perpetrators of the violence that occurred 1 February and left 74 people, mostly Ahly fans, dead.
Attorney General Abdel Meguid Mahmoud last month charged 75 people in connection with the bloodiest football violence in the nation's history. The accused include nine senior police officers.
Mahmoud's decision came after Ultras Ahlawy staged their sit-in to demand swift justice and protest what they said was a delay in filing the charges.
The decision, which was posted on the group's Facebook page, came after an Ahly fan meeting during which they agreed on two main demands: that the victims of the violence be considered officially as revolution martyrs and that a review of the case be expedited.
The Port Said fact-finding committee has agreed to consider the victims martyrs, a decision declared by Ashraf Thabet, Parliament's deputy speaker. Following a meeting between the group's representatives and Justice Minister Adel Abdel Hamid, the minister also formed a special unit to follow up on the case to guarantee a swift decision and punishment for the perpetrators.
The Ultras Ahlawy group leaders called for its members to not attend the football game between Ahly and the Ethiopian Coffee club that took place Sunday in Military Stadium to avoid clashes with police or military officers. The Ultras watched the game on a large screen at the Parliament sit-in.