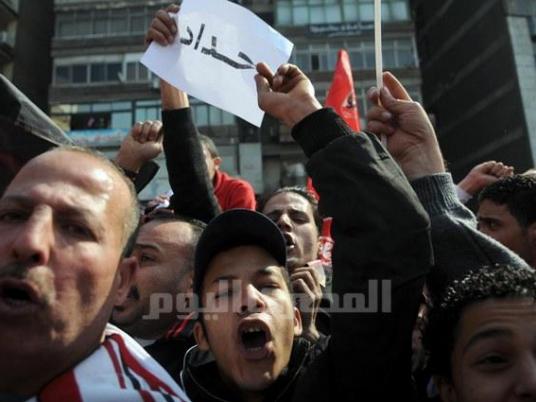 Hundreds of Ahly football club's Ultras Ahlawy, Zamalek's White Nights and a number of supporters of their cause responded on Thursday to calls on social networking sites on Wednesday for a rally that would begin outside the Ahly Club and head to the attorney general's office.
The protesters gathered at 9 am outside the Ahly Club headquarters in Gezira to protest the lack of accountability regarding last month's football violence in Port Said.
Hundreds of protesters marched to the attorney general's office waving Ultras flags and holding pictures of the Port Said violence victims and a large banner that read "Glory to the martyrs." They also chanted slogans such as "the Ministry of Interior are thugs," "I hear the martyr's mother calling…'who will get me my sons' rights,'" and "Down, down with military rule," in addition to a number of football songs.
The state-owned newspaper Al-Ahram reported that the protesters then blocked Ramses Street in downtown Cairo and some were sitting in the street outside the Lawyers Syndicate.
Meanwhile, Attorney General Abdel Meguid Mahmoud referred 75 defendants in the Port Said violence case to court, which resulted in mixed reactions among the protesters.
One Ultras Ahlawy leader who spoke on condition of anonymity said, "We demand the immediate prosecution of the perpetrators." He added that the ultras "will not allow this case to be dealt with the same delays found in the Mubarak trial."
He went on to say that the Ultras Ahlawy would continue to take to the streets to demand retribution for the martyrs. Another protester accused the Supreme Council of the Armed Forces and the judiciary of complicity and of attempting to "abort" the revolution, hoping to cause chaos.
Translated from Al-Masry Al-Youm