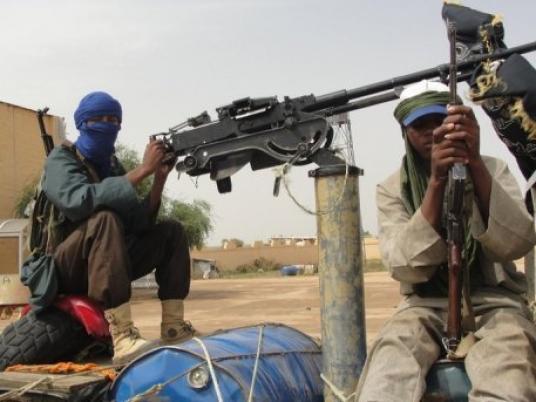 Extremists imposing Islamic law in Mali's north are abusing human rights, particularly those of women, and paying families for children to become rebel fighters, a senior UN official said on Wednesday after returning from the country.
UN Assistant Secretary General for Human Rights Ivan Simonovic said rebel fighters, including Islamist extremists allied to Al-Qaeda, in northern Mali were "buying loyalty" by abolishing taxes and paying for fighters and wives in a country where more than half the people live on less than $1.25 a day.
Mali descended into chaos in March when soldiers toppled the president, leaving a power vacuum that enabled Tuareg rebels to seize two-thirds of the country. But Islamist extremists, some allied with Al-Qaeda, hijacked the revolt and then imposed harsh Islamic law in a desert region the size of France.
"During the first phase we had violations that were related to rebels taking control, they included summary execution of the captured soldiers, instances of lootings, of rapes," he told reporters at the United Nations in New York.
"However, what is new now is that human rights violations are becoming more systematic, relating to the takeover of the radical Islamists," he said. "They have now imposed an extremist version of Sharia, so the population is suffering a number of human rights violations, particularly targeted at women."
Simonovic — who met with government officials, community leaders and displaced Malians during a recent visit — said the extremists had banned music and smoking and were forcing women to be covered and restricting their ability to work.
"It is frightening to hear lists are being compiled of women who are either pregnant or have children and are not married and we do not know what is going to happen to them," he said.
He said more forced marriages were happening — with a wife costing less than $1,000 — and that some men sometimes then sell the women again in what Simonovic described as "a smokescreen for enforced prostitution and rapes that are taking place."
Child soldier costs $600
Mali, West African regional body ECOWAS and the African Union have asked the UN Security Council to back an international military intervention to help Mali reclaim the north. But the 15-member council wants a more detailed plan before it will approve such an operation.
Six French hostages are currently being held in the region by the North African arm of Al-Qaeda, which has threatened to kill them in the event of military intervention in Mali.
Simonovic said that about a third of the population in the north of Mali had fled and that there were some 100,000 refugees in Burkina Faso, 100,000 in Mauritania, 30,000 in Algeria and about 40,000 in Niger.
"Children are particularly vulnerable in the north," Simonovic said. "There is an attempt to enlist them as child soldiers. There is reliable evidence of many children being enlisted; their families [are] paid about $600 or a little bit less."
"So taking into account widespread poverty the temptation is high," he said. "I heard from one testimony that children were also involved in learning how to produce improvised explosive devices and three children were injured in an explosion."
The conflict in Mali has also exacerbated a deteriorating humanitarian and security situation in the turbulent Sahel region — a belt of land spanning nearly a dozen of the world's poorest countries on the southern rim of the Sahara — where millions are on the brink of starvation due to drought.
UN Secretary General Ban Ki-moon has named former Italian Prime Minister and European Commission President Romano Prodi to be his envoy to the Sahel region. Some Western governments have compared the Mali situation and the wider Sahel to Afghanistan.