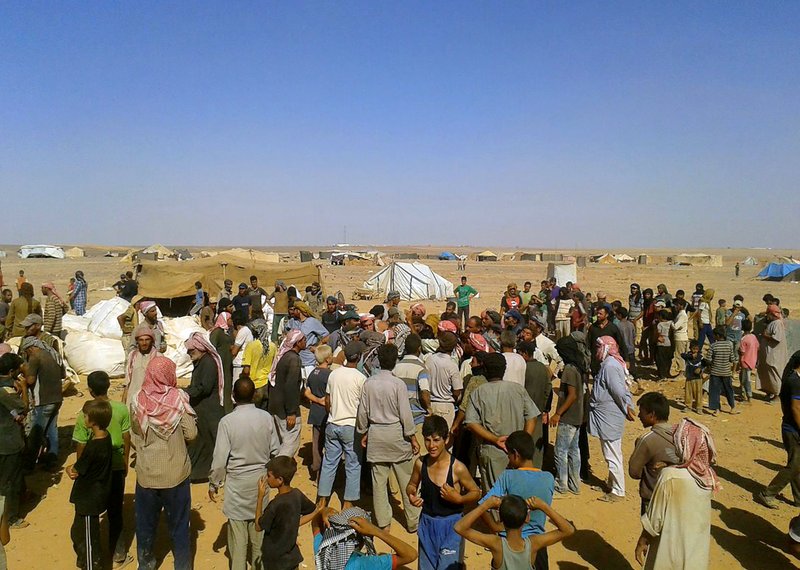 More than 13 million people inside Syria still need humanitarian assistance and nearly half are in "acute need" as a result of having fled their homes, of hostilities, and of limited access to food, health care and other basic needs, the UN humanitarian chief said Monday.
Mark Lowcock told the Security Council the number of Syrians who have been displaced within the country for a long time has dropped from 6.3 million to 6.1 million. But he said "levels of new displacement remain high," with 1.8 million people reportedly forced to leave between January and September.
Since just the offensive began in November 2016 that ousted the Islamic State extremist group from the city of Raqqa, its self-proclaimed capital, airstrikes and clashes resulted in over 436,000 people being displaced to 60 different locations, Lowcock said, speaking via video conference from Amman, Jordan.
In the eastern province of Deir el-Zour, he said, heavy fighting and airstrikes continue to cause civilian deaths and injuries as well as large-scale displacement. The International Organization for Migration reported some 350,000 people forced to flee since August, including more than 250,000 in October, he said.
Lowcock said airstrikes on the city of Al Mayadin in Deir el-Zour in mid-October left hospitals and medical facilities "inoperable," depriving about 15,000 people of health care. He said the UN children's agency UNICEF and the World Health Organization reported that the attacks destroyed a cold room where at least 140,000 doses of UN provided measles and polio vaccines were destroyed.
"This is a particular setback for efforts to check one of the world's largest polio outbreaks in recent memory, an outbreak which continues to plague Deir el-Zour in particular, with new cases continuing to be reported," Lowcock said.
He said nearly 3 million people continue to live in besieged and hard-to-reach areas where the UN faces "considerable challenges" in meeting humanitarian needs.
Lowcock said there was an expectation that progress in de-escalating fighting would result in increased humanitarian access but "this has yet to materialize."
On average, he said, only 10 percent of people in besieged locations were reached with UN assistance every month this year.
In the eastern Ghouta suburbs of Damascus, "one of the four de-escalated areas where nearly 95 percent of Syria's besieged population lives," shelling has been reported in recent weeks and humanitarian access has been severely curtailed for months, Lowcock said.
"Since the start of the year, 110,000 people have received food assistance, out of an estimated population of nearly 400,000," he said. "Today, the UN and partners delivered food, nutrition and health assistance to 40,000 people."
Lowcock said "an alarming number of child malnutrition cases" have been reported in eastern Ghouta and more than 400 people with health problems need medical evacuation.
Britain's UN ambassador, Matthew Rycroft, called the situation in eastern Ghouta "atrocious," saying de-escalation should not mean bombardment.
"What we fear is that the de-escalation zone is becoming a starvation zone," Rycroft said. "So we call on the Syrian regime and their allies to lift the blockade to allow humanitarian aid to get through."