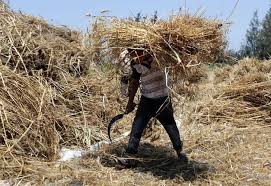 * Two cargoes held in Safaga pending prosecutor decision
* Inspector says sieving could take up to eight months
* Egypt worrying global suppliers after ergot row last year (Adds inspector quote, context)
Two wheat cargoes rejected by Egypt's agriculture quarantine service at the port of Safaga for containing poppy seeds would probably have to be moved for sieving, a source familiar with the matter said, dashing hopes of a quick end to the dispute.
Grain markets have been on tenterhooks over the fate of the cargoes from France and Romania, fearing fresh disruptions to supplies to the world's biggest wheat importer after another trade row last year.
The agriculture minister said on Wednesday the poppy seed variety found in the cargoes from France and Romania was not dangerous and the shipments should be released and sieved before deciding whether to allow them into the country.
However, a final decision from the public prosecutor on whether the sieving will take place is still pending.
"The wheat silos that are present in Safaga are not equipped to sieve the Romanian and French wheat cargoes if a decision for that is issued by the public prosecutor," the source told Reuters on Monday.
The process could take place in silos in Sohag or Qena, the source added.
Rejection of the cargoes could lead suppliers to boycott Egypt's massive tenders – as occurred last year when the country sought to clamp down on the common grain fungus ergot.
"At this point re-export would be less costly for the suppliers," said one agricultural quarantine inspector, who declined to be named due to the sensitivity of the matter.
"Sieving is not possible in Safaga and because the matter has been referred to the prosecutor then the whole process will have to be done under the supervision of his office if it is approved and this could take six to eight months," he said.