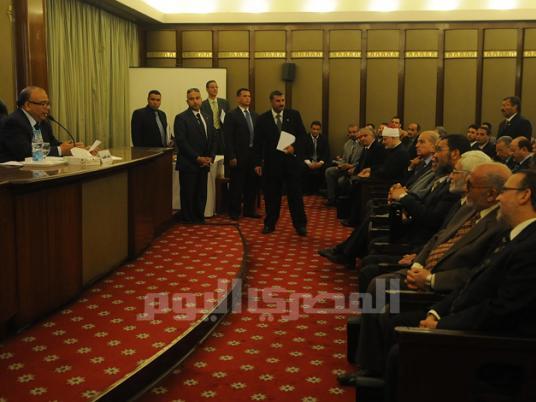 Mohamed Emara, head of the Constituent Assembly committee tasked with determining the basic components of the state, said Tuesday evening that an agreement had been reached over Article 2 of the new constitution.
Emara reported that the draft of Article 2 states: "Islam is the religion of the state, and Arabic is its official language, and the principles of Islamic Sharia are the main source for legislation. Christians and Jews shall resort to legislation derived from their own religions."
Al-Azhar will be the reference for explaining the word "principles," state-run news agency MENA quoted Emara as saying.
Constituent Assembly spokesperson Wahid Abdel Meguid predicted Tuesday that Egypt's new constitution would be drafted within three months.
Abdel Meguid said in a statement that a meeting of the assembly's executive board considered reports from the different committees on their progress drafting constitutional articles.
The committee tasked with the wording of the constitution as a whole will be formed during the assembly's meeting on Wednesday, he said.
The committee that deals with the basic components of the state has finished drafting the first article, which would state: "The Arab Republic of Egypt is democratic, consultative, constitutional, and modernized; based on separation of powers and principal of citizenship, it is part of the Arabic and Islamic nation and tied to the African continent."
Yasser Borhamy, a member of the assembly and leader of the Salafi Dawah, told Al-Masry Al-Youm that "there was consensus among the committee's members over the statement 'Egypt is part of the Arabic and Islamic nation.'"
The use of the word "consultative" (shoureya) was suggested by a Salafi Dawah member and agreed upon by the committee's members as an explanation for the word "democratic" in Arabic, he added.
"It is not mentioned in the first article that Egypt is an Islamic state because this is in the second article, and there is no need for repetition," Borhamy explained, adding that, "We are against a theocratic state but insist that the second article state that Sharia, not its principles, is the main source of legislation to separate the state from radical secularism."
Edited translation from Al-Masry Al-Youm