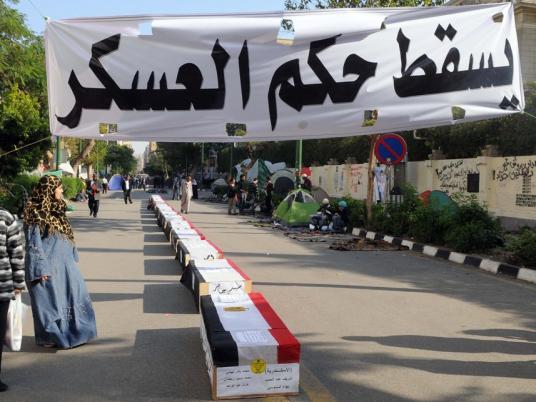 Following the food poisoning of protesters on Wednesday, Egyptian prosecutors have sent blood and gastric juice samples for testing at Health Ministry labs.
The tests will help determine the existence of criminal motivations behind the incident, where 40 activists involved in the "Occupy Cabinet" sit-in were transferred to hospitals after being poisoned by food handed out to protesters on Wednesday afternoon.
The mass food poisoning of sit-in protesters outside the cabinet building Wednesday night was not a coincidence, said the April 6 Youth Movement in a statement Thursday.
The youth movement described the incident as part of an "elimination process" for the revolution. The process, the statement went on, started with military trials for revolutionaries, and developed into killing Maspero protesters, using lethal tear gas canisters against protesters on Mohamed Mahmoud Street, and finally attempting to poison the cabinet protesters.
Prosecutors have requested to view the results of police investigations into the incident, as well as information about the health of 26 people who suffered the poisoning. They also asked to interrogate victims released from the hospital.
Some protesters told interrogators they received free lunch meals given out by a face-veiled lady during the protest outside the cabinet building. They reported experiencing severe abdominal pain, vomiting, and diarrhea after eating the food.
In a statement published on its Facebook page, the movement wondered, "Who are the 'invisible hands' who will be held responsible this time, and for how long will these 'invisible hands' continue threatening the security of Egypt and the young revolutionaries?"
Translated from Al-Masry Al-Youm