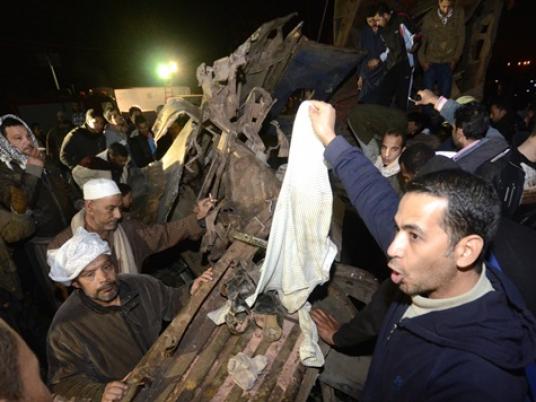 Calm returned to Alexandria's main train station late Tuesday afternoon after clashes erupted at a protest there earlier in the day, as demonstrators decried the government's preparedness for and response to a train accident that left 19 central security recruits dead and 117 injured the day before.
Eyewitnesses told Al-Masry Al-Youm that protesters had begun to disperse while security forces remained deployed outside the station, which is known as "Mahatat Masr."
Protesters had been blocking the Cairo-Alexandria railway in protest of the train accident, which occurred in the Badrashin district of Giza. After commuters and officials had negotiated to end the railway protest, demonstrators marched to the train station and continued the protest there.
Protests also broke out on Tuesday afternoon at Ramses Train Station in Cairo.
Eyewitnesses told Al-Masry Al-Youm that police arrested 11 demonstrators at the station protest who had been blocking the railway. A security source said they were later released due to the intervention of Major General Abdel Mawgood Lofty, head of the Alexandria Security Directorate.
The source added that seven were injured in the station clashes, including one police recruit and a train driver.
Privately owned Youm7 newspaper had earlier reported on its website that security forces had thrown tear gas canisters at protesters who were throwing rocks at them. During the protest, the protesters said they would disperse if the police released their fellow demonstrators.
The protesters shouted, "Down with rule of the supreme guide," referring to the leader of the Muslim Brotherhood, the group from which President Mohamed Morsy hails. They also threatened to re-block the Cairo-Alexandria railway if those they hold responsible for recent train accidents around Egypt are not held accountable.
"Such moves like blocking roads come in the interest of citizens, in order to force officials to render good services," said Mohamed Samir, one of the protest organizers.
Train traffic between Alexandria and Upper Egypt was blocked for about 12 hours during the railway protest. Cairo-bound trains were also stopped due to the accident.
Passengers could be seen gathered on train platforms around the country in large numbers, particularly in the Assiut train station. Verbal arguments broke out between passengers and ticket window workers, as passengers attempted to redeem their tickets. Railway officials estimated that hundreds of thousands of Egyptian pounds have been lost due to the accident.
Deputy Health Minister Saad Zaghloul said 47 of the 117 injured were in critical condition. In a press conference of Health Ministry leaders, Zaghloul praised residents near to the crash site for their efforts in transporting the injured to hospitals. The residents also donated 150 bags of blood for the injured.
Mohamed Sultan, head of the ambulance authority, rejected accusations that ambulances were slow in arriving to the scene of the accident. He insisted that ambulances arrived quickly, adding that they were able to transfer 107 of the injured to hospitals.
Edited translation from Al-Masry Al-Youm