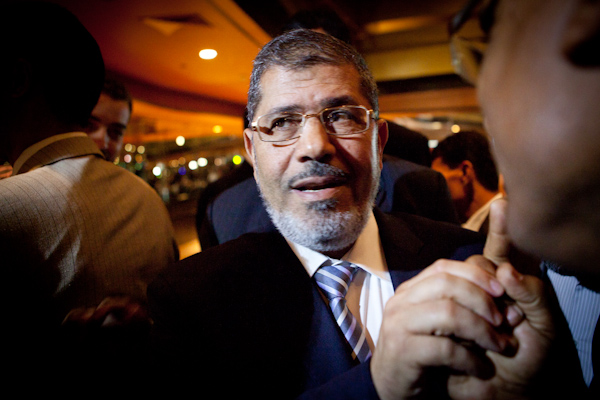 Newly elected President Mohamed Morsy said on Saturday that the military that took charge when Hosni Mubarak was overthrown last year had kept its promise to hand over power, speaking at a ceremony to mark the formal transfer of authority.
"The Egyptian people, the Arab, Islamic and entire world are witnessing a unique model, not seen before, of how power is transferred from the Egyptian military forces by the will of the people to an elected, civilian power," Morsy said.
"The armed forces handed over power with assurance and they kept their promise," he said, adding in his comments before generals and troops on parade that no one would "touch any of your rights" and promising to support their national work.
Field Marshal Hussein Tantawi, head of the Supreme Council of the Armed Forces, said in his speech at the ceremony that the armed forces had fulfilled its pledge, made when it took over from ousted leader Hosni Mubarak, to transfer power to an elected president.
In the ceremony at the Hike Step military base on the Cairo-Ismailia desert road, Tantawi said that the armed forces chose to stand with the people's will during the mass protests against the former president.
Morsy had arrived in Hike Step on Saturday afternoon to attend the ceremony and parade after his inauguration as president, in the presence of Tantawi and General Sami Anan, the army's chief of staff.
Tantawi and Anan greeted Morsy with a military salute when he arrived, television pictures showed.
This move was seen as an important and symbolic gesture to show that Morsy is being treated as a real president who will lead the generals.
The same generals dissolved the Islamist-dominated legislature after the Supreme Constitutional Court that swore Morsy in on Saturday ruled that a third of its members were elected illegally.
The military has also declared itself the legislative power. It gave itself control over the drafting of a new constitution, sidelining Morsy's Muslim Brotherhood, which had sought to influence the process by packing the drafting panel with Islamists.
The generals also created a National Security Council to formulate key domestic and foreign policies. Military officers outnumber civilians sitting on the council by about two-to-one, and decisions are made by a simple majority.
Morsy is Egypt's first leader since 1952 to not be a former military man, and is the Arab world's first elected Islamist leader.