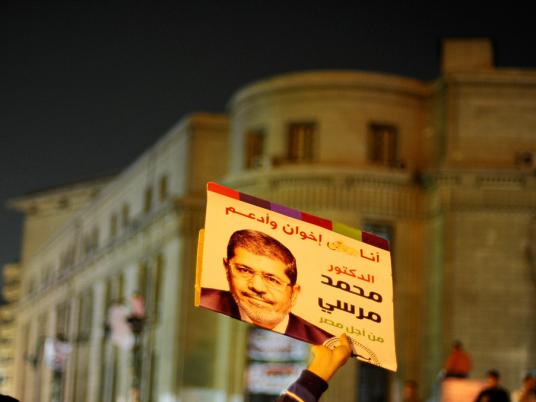 In a statement on the Freedom and Justice Party website, Muslim Brotherhood spokesperson Mahmoud Ghozlan announced that the group plans to hold a "million-man" demonstration in Tahrir Square on Saturday, in support of President Mohamed Morsy's recent constitutional declaration expanding his power.
Nour Party spokesperson Nader Bakkar said the Salafi party has agreed to take part in the demonstration in support of Morsy's constitutional declaration, adding that it would be peaceful.
Nour Party Secretary General Galal Morra said the demonstration aims to maintain the stability of the country and the legitimacy of the elected president.
The Brotherhood, Egypt's most organized and popular Islamist group, had previously cancelled its call for a big pro-Morsy rally last Tuesday because of fears of an eruption of violence between the president's supporters and opponents, who had also called for mass demonstrations on the same day.
Five months into the Islamist leader's term, in scenes recalling the uprising that unseated predecessor Hosni Mubarak last year, police fired tear gas at stone-throwers after protests by tens of thousands on Tuesday against the declaration that put Morsy's decisions beyond legal challenge.
Anti-Morsy protesters say they will stay in Tahrir Square until the decree is withdrawn, bringing fresh turmoil to a nation at the heart of the Arab Spring and delivering a new blow to an economy already on the ropes.
Egypt's cassation and appeals courts said on Wednesday they would suspend their work until the constitutional court rules on the decree, which has further damaged Morsy's already testy relationship with Egypt's judges.