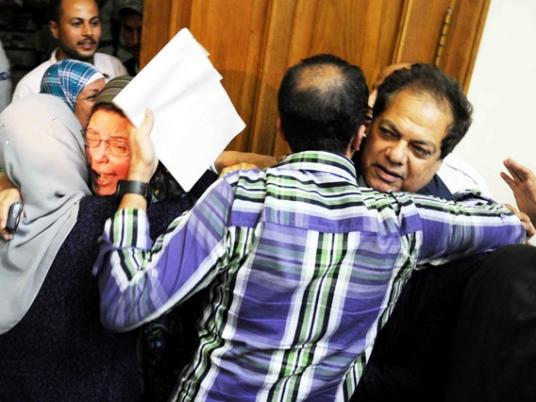 Public Prosecutor Abdel Meguid Mahmoud claimed late on Thursday that despite being fired, he would not leave his post.
Citing the Law on Judicial Authority in his defense, Mahmoud issued the statement in response to this afternoon's announcement that President Mohamed Morsy would remove him from office and appoint him as ambassador to the Vatican, instead.
Morsy's chief of staff, Ahmed Abdel Aty, announced the decision at a press conference Thursday.
The moves come amid public outcry against the acquittal of 25 former officials from the regime of ousted President Hosni Mubarak, who had been accused of inciting the killing of peaceful demonstrators in the Battle of the Camel on 2 and 3 February. The court found there was insufficient evidence to prove their guilt.
Activists have accused the prosecution of failing to gather that evidence.
Abdel Aty said the president would soon name a new public prosecutor.
"The decision [to remove Mahmoud] was made in light of the current political situation," Aty said. "It cannot be considered separately from the latest developments."
Morsy had met with Vice President Mahmoud Mekky, Prime Minister Hesham Qandil and several ministers at the presidential palace earlier Thursday to discuss the latest domestic developments, Aty said. Morsy was asking for faster results from the fact-finding committee he established after his election to uncover evidence against former regime officials.
Aty added that Morsy's committee would introduce new evidence concerning the murder of the protesters in the coming weeks.
Calls for Abdel Meguid's removal began earlier this year after former Interior Ministry Habib al-Adly's aides and other police commanders were acquitted of charges that they were responsible for the deaths of protesters during the January 2011 revolution.
There have also been several calls to separate the post of the public prosecutor from the government's executive branch. A draft law is on the table, proposing that the Supreme Judicial Council appoint the public prosecutor, and not the president.
Abdel Meguid earned a bachelor's degree in law from Cairo University in 1967. He was named public prosecutor in 2006.
Diplomatic sources told Al-Masry Al-Youm that Mahmoud's ambassadorship to the Vatican would be contingent on the latter's approval, but that they were confident that the Vatican would approve the nomination.
The Vatican has only once rejected an Egyptian ambassador, Ismail Khairat. The last Egyptian ambassador to the Vatican was Lamiaa Mekheimar, who ended her term in early September.
Edited translation from Al-Masry Al-Youm