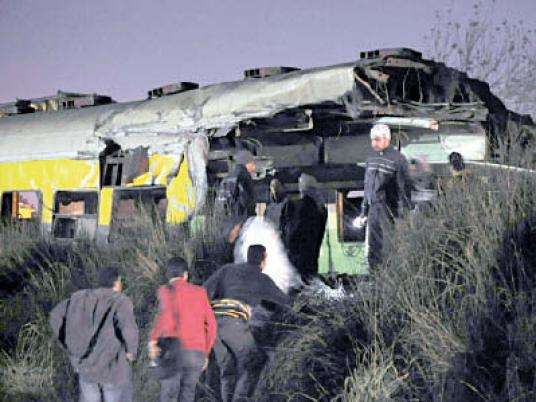 The National Railways Authority has decided to form a legal technical committee, to be presided over by the authority's vice chief for safety and quality, to look into the cause of the accident between train no 978 and a truck in the city of Ayyat, Giza on Sunday.
The accident left six people dead and three others injured.
The committee will send its report to the investigation authorities once it is completed.
In a press release on Sunday, the authority said, "At 7:30 am, a truck carrying workers passed through the crossing of Beleida al-Balad while the Cairo-Assiut train no 978 was passing. It hit the truck."
Train traffic returned to normal at 10:25 am.
A security source told Al-Masry Al-Youmthat the watchman handling the crossing left it open, unaware of the passing train.
The watchman has been apprehended and is being questioned.
There were 640 train accidents in the first half of 2015, leaving 42 dead. Both statistics mark an increase compared to 2014, the Central Agency for Public Mobilization and Statistics said in its report last December on car and train accidents.
Out-of-date level crossing managing systems have been at the center of most of the train accidents.
The Egyptian National Railways said last October that it had updated 411 level crossings across the republic at a cost of LE650 million as part of a broader scheme to enhance the management of the facilities and address fatal accidents.
Edited translation from Al-Masry Al-Youm