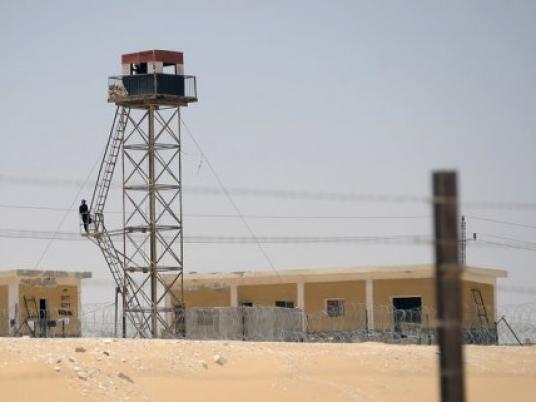 Gunmen killed at least 15 Egyptian policemen in an assault on a police station at the border between Egypt and Israel on Sunday, before seizing two military vehicles and attempting to storm the border.
Israel said its aircraft had fired on one of the commandeered vehicles and that the other had exploded at the border crossing. Israeli forces were combing the area and some of the militants had been killed, the Israeli army said.
Egyptian medical and security sources said that 15 Egyptian policemen had been killed and seven wounded in the assault on the police station. Israel said no Israelis were hurt.
"The terrorists who killed the Egyptian security men seized two Egyptian military vehicles and tried to storm the Israeli border," Ofir Gendelman, a spokesman for Israeli Prime Minister Benjamin Netanyahu, said on Twitter.
"One of the two Egyptian army vehicles exploded and the second was targeted by the Israeli air force in the Kerem Shalom crossing. No injuries on the Israeli side," he said.
Gendelman's Twitter account said that Netanyahu thanks the Israeli Defense Forces and Shin Bet for their "decisive action" which prevented "a large scale terrorist attack against the citizens of Israel." Netanyahu had spoken with senior military figures, such as the IDF Chief of Staff and the Director of Shin Bet.
There was no immediate claim of responsibility. Egyptian state television reported that an Islamist militant group was behind the attack.
Gaza Strip's Hamas condemned the killing of the Egyptian police officers.
Egyptian security sources said the attackers had used a stolen police vehicle to launch the attack and had fired live ammunition at police officers at the station.
Egyptian President Mohammed Morsy called for an urgent meeting with Egypt's military council to discuss the situation, the Muslim Brotherhood's party said on Facebook.
Israeli Defense Minister Ehud Barak said the attack showed the need for Egypt to take action to impose security in the Sinai peninsula.
A television journalist based in North Sinai said the area was sealed off by security forces, who had blocked the road from the main town of Arish in the direction of the Gaza border crossing at Rafah. Egyptian state television reported that the Rafah border crossing was would be sealed indefinitely.
Earlier on Sunday, an Israeli air strike killed a Palestinian gunman from a radical Islamist group and wounded another as they rode a motorbike in southern Gaza near the Egyptian border. It was not immediately possible to confirm whether the two incidents were linked.
Israel has previously accused Palestinian militants in Gaza of involvement in militant activity in Sinai, where insecurity has spread since the US-aligned Egyptian president, Hosni Mubarak, was toppled by a citizen revolt last year.