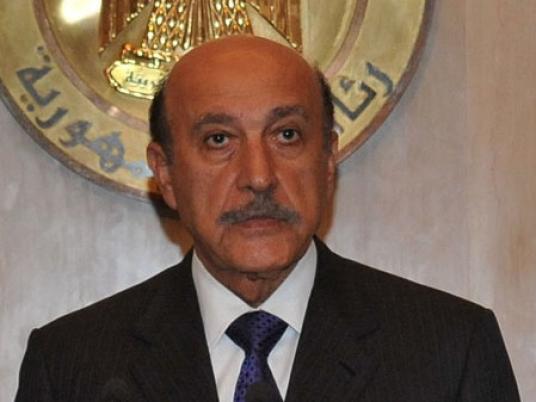 Former intelligence chief Omar Suleiman will be buried in a military funeral that will be attended by a representative from President Mohamed Morsy's office, presidential spokesperson Yasser Ali said Thursday.
Suleiman died suddenly while undergoing medical tests in the Cleveland Clinic in the US. State-run MENA news agency reported several months ago that Suleiman suffered from lung disease, as well as cardiac problems. He traveled to Cleveland, Ohio three weeks ago when his health took a turn for the worse.
Ali added that Morsy's office has sent a condolence message to Suleiman's family, Al-Masry Al-Youm reported.
Security sources told Al-Masry Al-Youm that former President Hosni Mubarak was deeply shocked when told that Suleiman died, given the close relationship they had for many years. Mubarak heard the news from his son, Gamal, but initially refused to believe it until hearing the details of the death.
The Muslim Brotherhood and the Salafi Nour Party confirmed that they would attend Suleiman's funeral, while the Salafi Front's spokesperson called on people not to attend the funeral or pray for Suleiman.
Salafi Front spokesperson Khaled Saeed told the privately owned Al-Watan newspaper that Suleiman was a criminal who corrupted the nation.
The acting head of the Brotherhood's Freedom and Justice Party, Essam al-Erian, tweeted, "He left our world [taking with him] great secrets."
"I can say nothing at the moment of death except: To Allah we belong and to Him we shall return," he added.
Brotherhood Deputy Supreme Guide Rashad Bayoumi, meanwhile, downplayed Sulieman's death, saying that it was not so significant that the Brotherhood should be repeatedly asked whether it will participate in the funeral.
Former MP Mostafa Bakry, known for his loyalty to the Supreme Council of the Armed Forces, criticized what he claimed was Morsy's tardiness in offering condolences for the death of a "loyal nationalist."
Bakry wondered in a tweet "if the presidential office was waiting for the approval of the Muslim Brotherhood Guidance Bureau."
Hamas head Khaled Meshaal said he paid his condolences to Morsy during their meeting on Thursday. Hamas was at odds with Suleiman over his cooperation with Israel.
"Although there were points of disagreement between Hamas and Major General Omar Suleiman, the man was an Egyptian national figure who carried out his duty according to the nature of his job," said Meshaal during a press conference.
The Pro-Mubarak Facebook group "I am sorry, Mr. President," called for the disclosure of the "real" reasons behind Suleiman's death.
"We demand a quick investigation into the mysterious death of Major General Omar Suleiman and a public announcement of the results," the page said.
Later in the day, former presidential candidate Ahmed Shafiq's political office also released a statement that was published on Facebook and Twitter.
"May Major General Omar Suleiman rest in peace. He was a faithful Egyptian patriot who sincerely served his country for many years," the statement said.
"I extend my sincere condolences to his daughters, family and loved ones, as well as all those who believed in his principles," Shafiq continued, adding that he hoped history would judge Suleiman as he deserved.
Amr Moussa, the former secretary general of the League of Arab States and also a presidential candidate, said on Twitter that Suleiman "died after a busy life, in which he played key roles in the Egyptian political life."
He prayed for Suleiman to rest in peace and offered his sincere condolences to his family.
Edited translation from Al-Masry Al-Youm