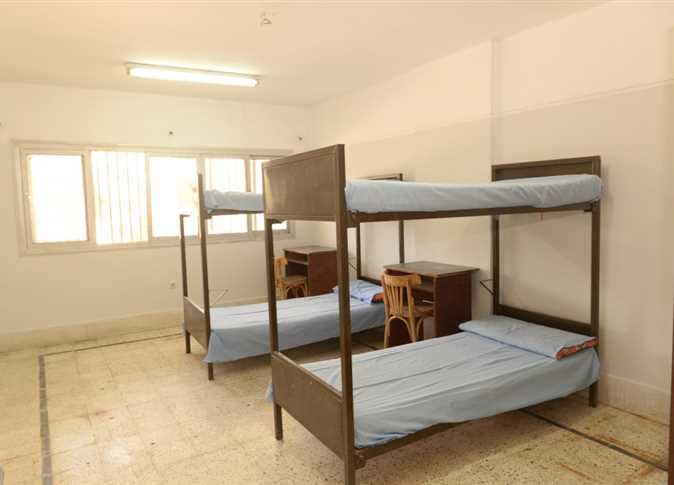 University dormitories in Upper Egypt have begun receiving coronavirus cases, with the Assiut Health Directorate announcing on Friday the transfer of 15 patients from Mallawi quarantine hospital in Minya to Assiut University dormitories to finish their treatment.
Minya Governor Osama al-Kady followed up the Mallawi hospital via video conference, to check on their work and general situation of the cases – he also praised the medical staff for their efforts.
On Friday, 10 more patients from Beni Suef Governorate recovered and were discharged after being treated at the Mallawi hospital, bringing the number of hospitalized patients down to 61 from the total of 106.
Governor Kady further ordered local unit heads to continue campaigns implementing preventive and precautionary measures, follow up restaurant closures, enforce curfew laws, disinfect the streets and remove any waste.
Health Minister Hala Zayed said on April 8 that going forward the protocol for clinically simple cases of coronavirus who are less than 50 years old, do not suffer risk factors, and are in stable condition will be transferred to governmental university dormitories and designated youth hostels.
In a statement, Zayed explained that this move falls within the government's plan to battle the coronavirus outbreak, guided by countries that have weathered similar crises.
These cases will be under the Health Ministry's full medical supervision after spending the five-day treatment period according to the protocol, and their condition is evaluated.
She said that the follow-up period for these cases will be at medically prepared places until they recover and are discharged.
These places are medically equipped at the highest level in terms of accommodation, sterilization and hygiene – alongside follow-up clinics, laboratories, scan units, pharmacies and the necessary medical crews.
She said that 88 percent of infections in hospitalization suffer from minor symptoms, seven percent suffer from moderate symptoms, three percent suffer from severe symptoms, and two percent are in critical condition.
Zayed noted that Egypt mostly has minor infections according to WHO divisions.
Optimally utilizing existing infrastructure and its available capabilities after vacating them has become a last resort to weather through the hardest stages of the spreading coronavirus pandemic.
Egypt on Friday confirmed 171 new coronavirus cases, bringing the country's number of confirmed total cases so far to 2,844. The total number of COVID-19 deaths has now reached 205 nationwide.
Edited translation from Al-Masry Al-Youm