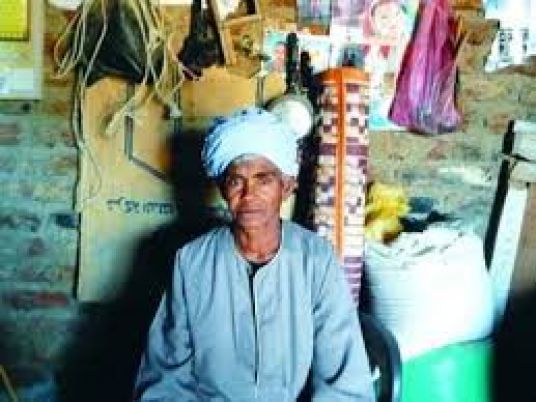 After becoming a widow in Upper Egypt with no breadwinner, life swept back into the eyes of six-month pregnant Sisa Gaber Abu Douh, now 64, who at a young age bravely decided to disguise herself in men clothes to save her own daughter from poverty.
But, after 43 years of struggle, Douh received the honor of winning the annual Role Model Competition held by the Social Solidarity Ministry celebrating mother's day.
When Douh's husband's died, she turned a new leaf in her life; unlike many other women, she refused to remarry because of her daughter and decided to work.
In order to protect herself from men's harassment and gossip, she dressed in a baggy traditional men's galabya and turban, put together a shoe-cleaning kit and began to work alongside other male shoeshiners in small, close villages where no one knew her.
Douh speaks on camera during a talkshow on the channel CBC.
She disguised herself for over 43 years in men's clothes, and though her daughter married at the age of 16, Douh did not abandon wearing the men's garments as she even began to feel uncomfortable in women's clothes.
"I refused to marry after the death of my husband, to take on the role of a father and mother to bring up my only daughter and to feed her in a patriarchal society," she said.
In a bitter voice, Douh said, "I've worked in many things, I worked a shoeshiner, laborer and farmer. I held heavy cement and concrete bags over my head. I lifted bricks I can accept all of that instead of begging."
Speaking to her daughter in MBC channel, "If you were a boy, I would have married, but you were a girl and no one could take care of you as much as I did, and I could have lost you."