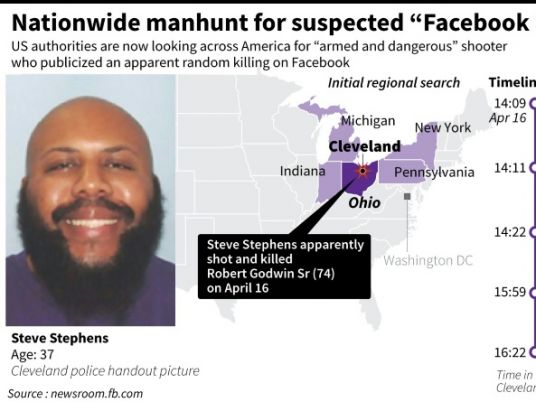 United States authorities launched a nationwide manhunt Monday for a gunman who shot and killed an elderly man, and then posted a video of the seemingly random attack on Facebook.
Police in Cleveland, Ohio issued an arrest warrant for Stephens, described as a 1.85 m, 110-kilo black man with a full beard, who was last seen in a white Ford Fusion with temporary license plates.
The police is working on the case with help from investigators at the FBI and the US Bureau of Alcohol, Tobacco, Firearms and Explosives (ATF), have offered a reward of up to $50,000 for information leading to the arrest of Steve Stephens, the accused shooter.
Stephens, 37, of Cleveland, Ohio, who was described as armed and dangerous, was also placed on the FBI's Most Wanted list, a designation officials hope will help raise public awareness about the case.
The manhunt spread across the region within a few hours after the homicide, with authorities on the alert for Stephens in Pennsylvania, New York, Indiana and Michigan. By midday Monday, the search for the accused murderer had spread nationwide.
"Our reach now is basically all over this country," Cleveland police chief Calvin Williams said at a news conference.
"This is what we would consider a national search."
Stephens is accused of fatally shooting Robert Godwin Sr, 74, who was walking home from Easter dinner on Sunday afternoon, when he was apparently picked out at random.
According to a timeline of events created by police and Facebook, Stephens posted a video on Sunday afternoon saying he intended to kill, and followed up two minutes later with video of the shooting.
Facebook to Undergo Review
In that second video, Godwin is shown with a gun to his head and then falling to the ground after Stephens fires a shot.
In a third video 11 minutes later, streamed live from Stephens's car, he says he intends to kill others.
"I killed 13, so I'm working on 14 as we speak," Stephens said. "I'm just driving around hitting motherfuckers, man. I just snapped man, fuck."
So far, however, police say they are aware of only one shooting victim.
The incident was the latest disturbing crime captured on Facebook video, including the alleged gang rape of a 15-year-old girl, two fatal shootings, and the kidnapping and torture of a disabled 18-year-old man.
In this instance, Facebook took down Stephens's videos and disabled his account about two hours after he first started uploading.
Justin Osofsky, vice president of global operations for the social media giant, acknowledged in a company blog post, that the delay was too long.
"We know we need to do better," Osofsky said.
"As a result of this terrible series of events, we are reviewing our reporting flows to be sure people can report videos and other material that violates our standards as easily and quickly as possible," he said.
Osofsky said Facebook received the first report about the video depicting the murder more than an hour and 45 minutes after it was posted.
"We received reports about the third video, containing the man's live confession, only after it had ended," he added.
Police Search 'Dozens' of Locations
Police in Cleveland, Ohio said they believe the suspect, 37-year-old Steve Stephens, is armed and dangerous, and have alerted authorities in four neighboring states to be on the lookout for him
Authorities were assuming he was still with his vehicle more than 24 hours later, and discounted reports that he might be on the run in Pennsylvania.
Stephens's mother told CNN she called him on Sunday after learning about the video, and he told her he was shooting people because he was "mad with his girlfriend." Police said the woman he referred to was in a safe place.
Cleveland detectives also made contact with Stephens by phone early in the investigation, Williams said. "They tried, of course, to convince him to turn himself in and, of course, that hasn't happened to date," he said, adding that officers had searched dozens of locations to find the suspect.
"If there's somebody who is helping Steve or think you're helping Steve, you're really not. You're going to get yourself in trouble, along with him," Williams warned.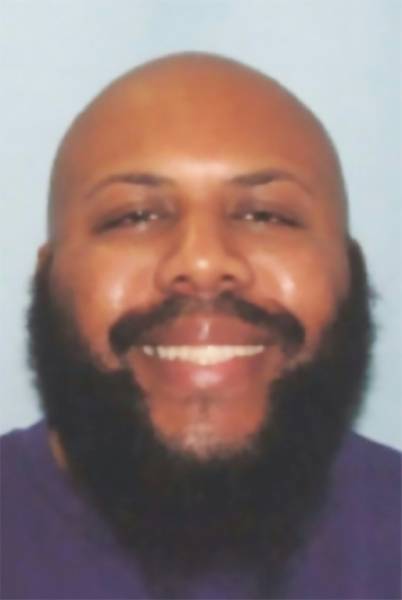 Stephens worked for Beech Brook, a behavioral health agency serving children through mental health services, foster care and adoption, at-risk youth and other programs.
In his video, Stephens displayed his Beech Brook badge. "We are shocked and horrified like everyone else," Nancy Kortemeyer, a spokesperson for the facility told CNN. "To think that one of our employees could do this is awful."